Mark your calendars, set those reminders, and get ready to make a difference. This is our chance to shape our future. We're counting on you! See you there! 💪✨
This meeting holds immense significance as it falls just one day before our contract expiration. What else can we do to move Columbia's Admin? Should we hold an Strike Authorization Vote?
Join us either in person or via Zoom to collectively determine our next steps and strategies for escalation. Your voice is instrumental in shaping our future, so be sure to mark your calendar!
Our contract expires on Friday, June 30th and it's crunch time! We have two bargaining sessions lined up this week, on Thursday (10:30am at Studebaker) and on Friday (location TBD). So, join the bargaining table and show CU Admin that we need a better offer, now! RSVP here.
Last week marked our 12th bargaining session, and we brought some major firepower to the table! We boldly informed CU Admin that we filed an Unfair Labor Practice claim. Why? Because they've been playing hardball, not negotiating in good faith, and even attempting to pressure us into accepting their terms. Talk about unfair play, right? 😤
They've stooped so low as to withhold salary raises agreed upon between the Postdocs/ARS and their PIs until a new contract is ratified. If you find yourself in this frustrating situation, don't hesitate to reach out to us! We're here to support you through it all.
But hey, let's not lose our spirit! We're fighters, and we won't back down. Together, we'll stand tall, demand fairness, and secure the conditions we deserve.
Quick recap from 12th Bargaining Session: 🏃💨 🏃⏱️
The negotiation rollercoaster continues! 🎢
CU Admin made their move by presenting us with an updated counter-proposal package. For a comprehensive breakdown, check out the full report from our latest bargaining session. Spoiler: No actual big moves towards our demands!
We made it crystal clear that we stand firm on OUR framework for settling a contract. What's included? An economic pack with:
Increases in minimum salaries that genuinely account for the inflation experienced over the past three years.
Cost of living adjustments that provide ongoing protection against future inflation.
Experience-based raises to retain and reward our talented workforce.
A housing stipend and childcare support funded by the institution, not by grants.
Now, here's where things got even more interesting. During the session, we filed an Unfair Labor Practice (ULP) against CU Admin with the National Labor Relations Board. We firmly believe that CU Admin is not negotiating in good faith. Thisstep was necessary to protect our rights. This seemed to shake them up a bit, and we witnessed a glimmer of increased willingness to negotiate more honestly.
However, the clock is ticking, and June 30 is just around the corner. Will their newfound sincerity be enough to reach a fair agreement by then? Only time will tell. If not, we may have to let the contract expire and explore other avenues.
Join us for our membership meeting this Thursday as we navigate these pivotal moments together!
Remember, our collective voice is stronger than ever, and we're determined to secure a contract that truly reflects our needs and aspirations. Let's keep pushing for progress and stand united until the very end! 💪✨
Detailed recap: 🐢📖🤓🐢
---
What's next?
Get ready for an action-packed week ahead! 🎉 This week will play a crucial role in shaping the contract that will define our working conditions for the coming years.
We've got not one, but two bargaining sessions lined up this week on Thursday and Friday. It's crunch time, folks!
But wait, there's more! We need your active participation and valuable input to make informed decisions. Join us for our membership meeting on Thursday, the 29th, at 6:30 PM. What happens when the contract expires? What else can we do to move Columbia's Admin? Should we hold an Strike Authorization Vote? You can choose to attend either in person or hop on Zoom. Together, we'll collectively determine our next steps, because unity is our strength!
RSVP now for both events to ensure your participation. Together, we'll navigate these crucial moments, fight for our rights, and secure a fair and favorable contract. We can't wait to see you there, either in person or on Zoom! Let's stand united until the very end! 🌀🗣️💪✨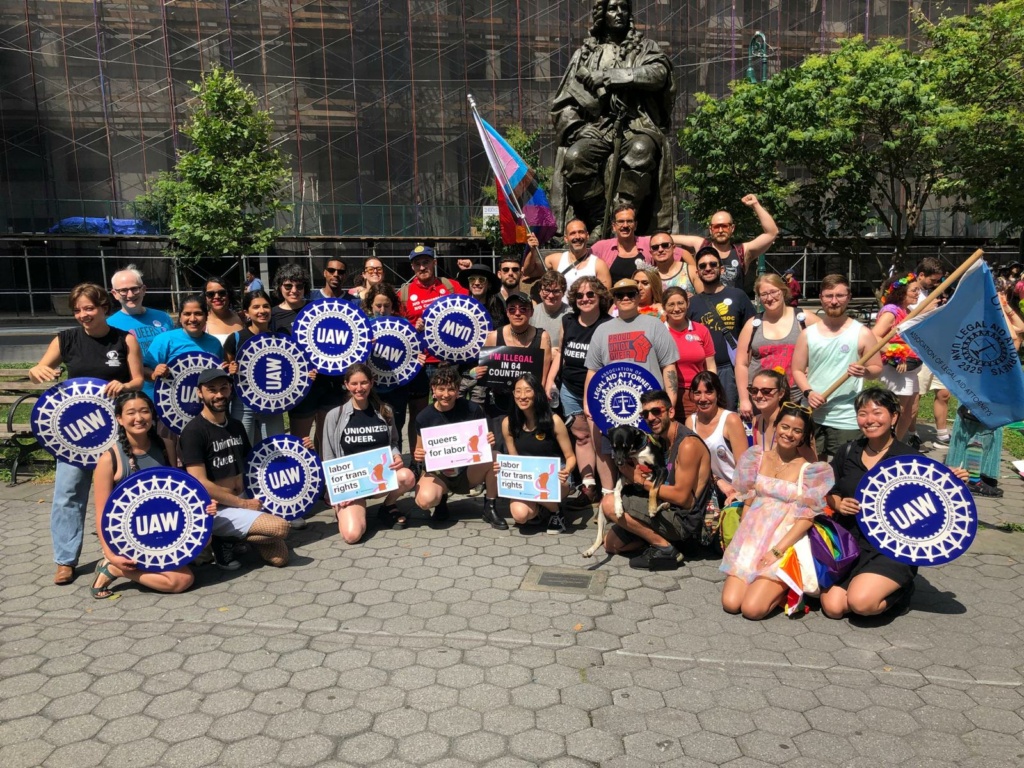 ---
Follow our next emails with updates on future steps!
Read reports from the bargaining sessions!
Reach out to get involved!
Follow us on social media! (IG, Twitter, Slack)
Share this info with your friends and colleagues!
CHECK THE BARGAINING ARTICLE TRACKER
In Solidarity,
Your Friendly Neighborhood Bargaining and Organizing Committee
---
Want to stay informed? Check out our website and follow us on Twitter, Instagram, TikTok, Facebook,
and join our and Slack​.