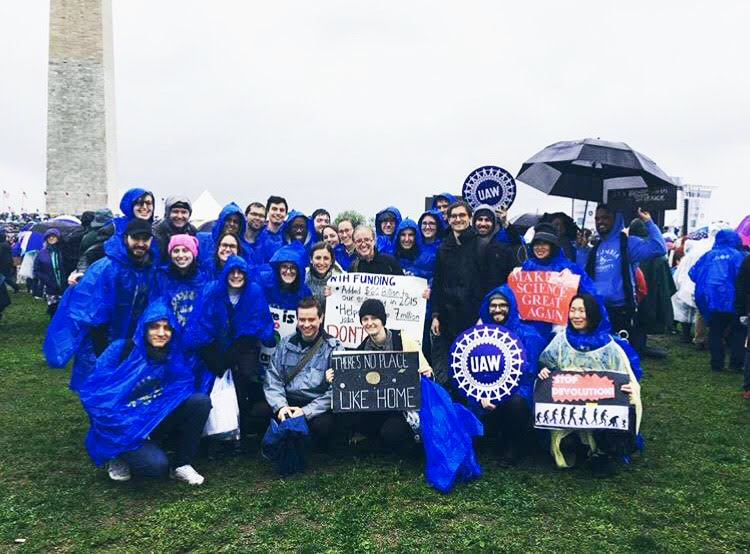 The UAW has a long history of fighting for workers in higher education. Nearly 65,000 UAW members work in higher education, as faculty, postdoctoral researchers, graduate student employees and clerical, technical and support staff. These workers are spread out across the United States, including postdoctoral researchers in the University of California and at the University of Massachusetts and graduate employees at the the same institutions in addition to Columbia University, University of Washington, New York University, University of Connecticut and California State University. Ongoing organizing campaigns at colleges and universities mean that number will rise.  For these workers, there's a direct connection between federal support for education and research and their wages, benefits and job security.
March for Science
The UAW was proud to be a national sponsor of the March for Science. On April 22, 2017 UAW members joined tens of thousands of scientists and science supporters in more than 600 cities around the world to advocate for the protection of science and science funding. We marched because science is critical to our health, economies, food security, and safety. We marched to defend the role of science in policy and society. At Columbia University as well as across the country, researchers participated in one of the largest national days of action to support and protect science funding. The UAW has a long history of being a vehicle to amplify the political voice of our members. In January 2017 we coordinated hundreds of people to attend the Women's March and were excited to continue that legacy with the March for Science.
Read UAW President Dennis Williams Letter to the March for Science Organizers:
Science Funding Advocacy
The www.stemfunding.org campaign was started by the Columbia graduate employee organizing campaign, and unfortunately might have been more successful under a different administration. But the Columbia campaign was inspired by previous work done by the postdoc union at the University of California (UAW Local 5810) and the grad worker union at the University of Washington (UAW Local 4121). A few years back, those two local unions, in conjunction with the UAW nationally, did a major "Save Science Funding" campaign, which involved emails and meetings with Congressional representatives in WA and CA, leading to a letter spearheaded by US Representatives George Miller (CA) and Jim McDermott (WA) urging Congressional leadership to preserve funding for research.
Read the letter written by US Representatives George Miller (CA) and Jim McDermott (WA) urging Congressional leadership to preserve funding for research.
Joining Together for Researchers

Check out this letter from officers in the University of California postdoc union, Local 5810, published by the Columbia Spectator during the graduate employee union election. Union leaders from across the state come together to speak to their experience of fighting for why the organizing a union is in the interests of international researchers.
"It is very disappointing to see the Columbia administration attempting to whip up divisions based on immigration status in its effort to defeat the union—especially in a climate of increasing anti-immigrant racism—instead of embracing research and teaching assistants who want to make Columbia and society at large a better place.
-Officers in the University of California Postdoc Union