June 22th, 10:30 AM @ Hammer, Room LL-210
Informal Organizing Committee notes
Your participation in Bargaining is very much appreciated! Join us in person or on our Slack channel to share your opinion/thoughts/concerns.
Take home message – We have submitted an Unfair Labor Practice (ULP) complaint to the National Labor Relations Board (Federal entity that mediates employee-employer relations). The reason behind this complaint is our belief that CU (the employer or management) is not engaging in good faith bargaining. While we have noticed a slight improvement in CU's willingness to negotiate more honestly, it remains uncertain whether this will be enough to reach a fair agreement by June 30 or continue bargainig pass that date.
The CU Admin arrived at 11:05 am. To kick off the session, we requested written confirmation of the verbal offers they discussed in the last session. These offers covered Childcare, Discipline and Discharge, Bullying, and Power-based Harassment.
The CU Admin took a break to consider articles where they believed agreement was possible.
At 12:56 pm, the CU Admin returned with an updated counter-proposal package labeled "REVISED OFFER SETTLEMENT" (details below).
After a lunch break and caucus at 1:10 pm, we shared our ECONOMIC PACKAGE. We made sure to simplify the language in our Compensation Article, as the CU Admin found it confusing in the previous session. Our aim was to provide clarity while maintaining our demands.
At 4:24 pm, we regrouped and asked for clarification regarding their Offer of Settlement.
Columbia Offer of Settlement:
Here are the changes in the CU administration's offer, along with some of the clarifications we received from them:
In regard to our suggestion that the University should assist new postdocs/ARSs in connecting with the Union, the administration has proposed adding Section 5: 9) "a URL for union office contact." This addition would be similar to what other unions have implemented under "Union Officer Contracts."

The administration has put forward this offer with the condition that we withdraw our request for them to provide new employees with a Union package. They argue that fulfilling this request may potentially lead to legal complications.
Miscellaneous in relation to ARTICLE 3: BENEFITS –
In response to our inquiry about the university policy regarding relocation reimbursement, the administration has proposed that relocation be treated as a payment not tied to any specific policy.

This represents a potential improvement compared to our previous discussions. However, it's important to note that in previous sessions, the administration expressed the expectation that research grants would cover these expenses.

However, the administration has maintained the Hardship Fund at $250,000 for the duration of the Agreement, which would only cover 50 workers over a span of 5 years (the contract length they are proposing). Additionally, the administration retains full control over the fund through the Office of Public Affairs (OPA).
Additionally, the administration does not agree to our request that any changes to our benefit package must be negotiated with us. As it stands, they reserve the right to modify our benefits at their discretion, as they did with the retirement contribution in 2021.
ARTICLE 7: DISCHARGE AND DISCIPLINE –
For Discharge and Discipline, they have offered that the University meets with the employee and the union for an interview prior to final discharge, except for cases of "alleged misconduct". We requested that they change their language "except for cases of gross misconduct" to ensure that postdocs/ARSs have some recourse before the university acts to discharge them, and that we can resolve issues before harm is done. This is especially important since internationals on Visas will need to leave the country after discharge.

They did not agree to include gross misconduct but offered us to write down the examples of dangerous behaviours in which the university could process the discharge before the proposed investigatory interview: theft, destruction of property, sexual assault.
ARTICLE 9: GRIEVANCE AND ARBITRATION –
CU Admin accepted one of the arbitrators we proposed which meant we reached a tentative agreement with the 3 arbitrators who would oversee the enforcement of our contract.
We expressed that we have not been convinced that we need to increase the length of the Step 3 grievance process. Currently, it takes 30 calendar days to complete, but the administration has suggested extending it to 30 working days. This change raises concerns, especially for those of us on visas who may be required to leave the country before the appeal process is finished.
ARTICLE 12: INTERNATIONAL EMPLOYEES –
In Section 2 they accepted our concept of informing the union when a postdoc/ARSs is stuck out of the US for Visa related issues: "Where possible, the University will notify the Union."
However, in Section 9, the administration is still rejecting our proposed language that states "The University will make best efforts to consult with the employee to provide a mutually beneficial Visa arrangement." Additionally, they are also refusing to establish a fund to cover visa expenses for international individuals.

We firmly believe that to demonstrate their commitment to supporting us in managing the challenges and financial burdens associated with Visa requirements there are two possible approaches. Firstly, they could agree to provide us with Visas that are advantageous to our situation, reducing the need for frequent travel and minimizing associated fees for Visa renewal. Alternatively, if they wish to retain the authority to determine our Visas based on the University's interests, we propose that they assist us in covering the expenses related to those Visas.
Side Letter on ABUSIVE OR INTIMIDATING BEHAVIOR AS PROHIBITED CONDUCT
The CU Admin has agreed that once the Anti-bullying policy becomes official, postdocs who experience power-based harassment and are dissatisfied with the university's process can proceed to arbitration and receive protection under our Union and the contract. This language aligns with what SWC-UAW 2710, representing Grad Student Workers at Columbia, achieved in their contract.

Although we appreciate the inclusion of the right to arbitration for a policy we have been advocating for since 2019, we still request the incorporation of the bullying definition created by the university-wide working group (with our members' work) and approved by the Provost in February.
Despite Columbia Admin providing the link to the Anti-bullying Initiative in our contract: https://provost.columbia.edu/content/columbia-anti-bullving-initiative, we are concerned that it may allow for changes to the definition that our members worked tirelessly to establish.
After asking questions about their package we brought up some of the topics in which we think we are far apart:
Discussion on equality for Fellows:
We have confirmed with several Fellows on T32s at Mount Sinai that they receive W2, and are considered employees. We offered CU Admin that Fellows from Mt. Sinai will be happy to come to our negotiations to testify. We also reiterated our request for information, which has been ignored so far, as to why Columbia does not want to consider Fellows to be employees and receive full benefits.
After the session the Administration sent us the following email stating clearly in our opinion that is not that they can't recognize Fellows as employees, it's just that they don't want to:
Email From Columbia's Labor Relations:
After getting an update about yesterday's session, I wanted to clear up some possible confusion as it to relates to Postdoctoral Fellows and Postdoctoral Scholars and Scientists. It is not the University's bargaining position that Postdoctoral Fellows at some point cannot transition from a fellowship to be an employee. Rather, the University's position in response to your proposal is that it will not agree nor be restricted to classifying all Postdoctoral Fellows as employees unless the granting agency strictly prohibits it. The University is permitted to exercise its managerial rights which grants the University certain decision-making authority in areas such as employee classification, compensation, and benefits not restricted by the terms of the collective bargaining agreement. Furthermore, it's important to note that the decision is not solely determined by the preference of the University. There are legal and regulatory considerations involved, and the University needs to ensure compliance with applicable laws and guidelines. Likewise, we are currently classifying Postdoctoral Fellows consistent with how other comparable institutions also treat Postdoctoral Fellows as we have noted at bargaining sessions. The University is open to engaging in constructive dialogue on these matters and has demonstrated our willingness to work on these matters. I have included links for items that we have shared during our negotiation sessions.
If you need any additional relevant information as it relates to the RFI to answer your questions, please let me know.
Discussion on the economic framework
After discussing their Offer of Settlement we reinstated OUR framework to settle a contract. It needs to include more movement on their side in economic articles:
increases in minimum salaries that compensate for the Inflation of the last three years
cost of living adjustments that protect us from inflation going forward
experience based raises which help retain talent
in combination with a housing stipend and childcare from institutional money.
As we have repeated several times, if we are going to adjust our proposal on salaries, we need to see some movement in the housing stipend and childcare.
CU Admin responded that our offer is still unreasonable.
We reiterated that in the current status Columbia is making profit from research, growing its endowment, generating operating surplus year after year, instead of supporting research and workers as other institutions in the city do (with subsidized housing or more affordable healthcare). It is Columbia's core mission to use resources to support research and struggling postdocs/ARSs.
Unfair Labor Practice
Towards the end of the session we informed them that we filed an Unfair Labor Practice (ULP) with the National Labor Relations Board (Federal entity that mediates employee-employer relations) because we believe CU is not bargaining in good faith! And this behavior is illegal (see below for details).
Our case in the Unfair Labor Practice:
CU Admin has not put any reasonable proposals on the table, and is "delaying mandatory subjects of bargaining like compensation" (giving us a proposal only a month after bargaining)
It has continued to make assertions – that the contract is already 'good enough.'.
Additionally CU Admin unilaterally withheld salary increases that postdocs have already agreed with their PIs out of the contract until a new contract is ratified. REACH OUT IF THIS IS YOUR SITUATION!
From the ULP – "In some cases it has withdrawn previously offered salary increases, and has been communicating to several bargaining unit members that their salary increases will depend on when the contract is ratified."
From the ULP – "The Employer has also failed to provide the Union with relevant information requests it has submitted since the commencement of negotiations. In some instances, the University's responses are deficient."
Their response:
CU Admin expressed their disappointment that we are conducting ourselves like this (we also are disappointed on how they conduct themselves…). And explained their lack of movement:
In non economic issues – they said that they are protecting the University, and that "they need to educate us on how the University works".

To be honest, the exact opposite is true! Our proposals are the ones actually protecting the University and the integrity of research. A safe environment without power-based harassment, rules and guidelines on authorship and IP, timely appointments and reappointments, equity and inclusion, would only make our workplace more productive, and grease the wheels of research! That is what we are advocating for.
In economics issues – they reply that if our offer became true, there would be NO postdocs or ARSs, and that no one could afford to higher them. They insisted that they are being reasonable with their offer, and that if we don't like Columbia's offers we can go to another institution…

We agreed that if all we are requesting comes just from research grants it'll be difficult to hire postdocs/ARSs. That is why we are asking for more institutional support in the form of a housing stipend, healthcare fund, childcare and a lump sum for cost of living adjustments.
We know that other institutions in the city offer their postdocs more support with subsidized housing, healthcare and childcare benefits. Columbia is still not providing a reasonable compensation package at the moment.
At 6:38 PM the session ends.
The ULP has made CU Admin offer us two sessions the week after to try to reach an agreement. In addition, following the session they sent us an email finally stating clearly in our opinion that is not that they can't recognize Fellows as employees, it's just that they don't want to [See above]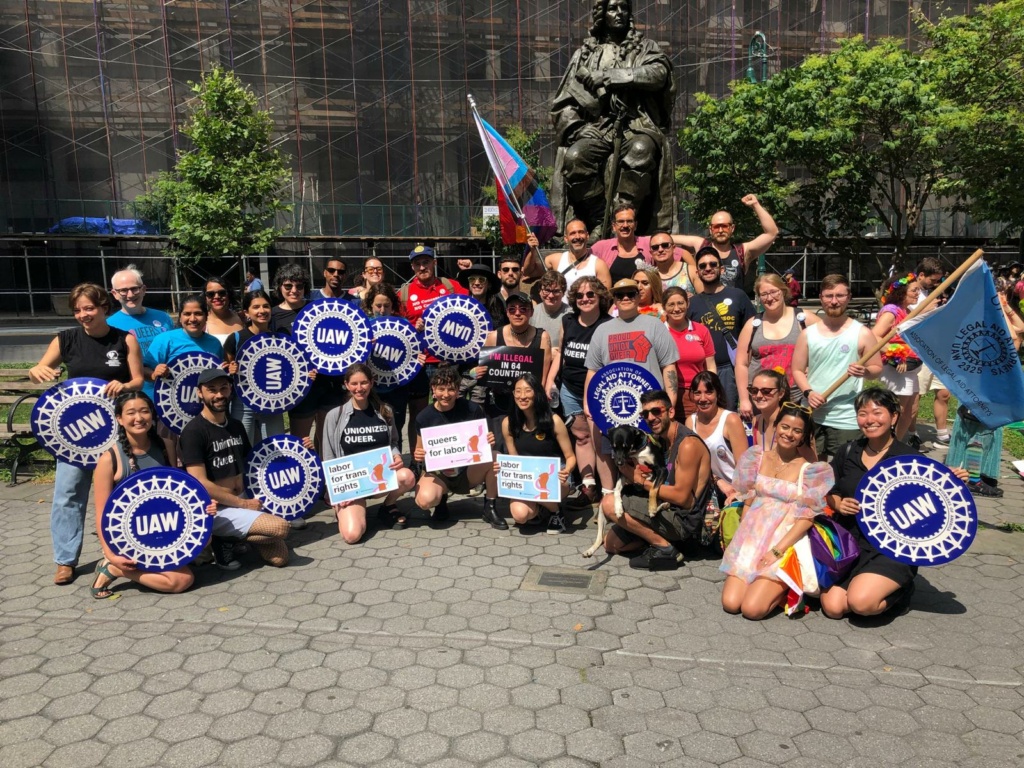 ---
DO YOU WANT TO KNOW MORE?
Read the notes from the other sessions!
Follow our next emails with updates on future steps and debriefing sessions!!
Reach out to us to get involved!
Follow us on social media! Twitter, Instagram, TikTok, Facebook, and join our and Slack​.
Share this info with your friends and colleagues!