Th 02/23 AT 6:30pm >>
(Every postdoc/ARS at Columbia is welcomed to participate but in order to vote you must be a full union member. You can sign and authorize dues here)
In addition, you can
[Read and submit any feedback to our contract demands]
AT 12:30pm >>
Last year, +500 Postdoctoral Researchers at Mount Sinai voted by an overwhelming 89.5% to form their union, the second for postdocs at a private institution. Postdocs do scientific research that produces life-saving healthcare around the world, and have sustained Mount Sinai's world-renowned research program throughout the COVID-19 pandemic.
Yet, almost eight months since they formed their union, Sinai has continued to stall contract negotiations and reject standard provisions that other unionized workers have, including:
A timely, enforceable grievance process
Just cause protections
Stable, predictable appointment lengths
Stronger protections against discrimination and abuse
And many more basic rights
In order to support Sinai postdocs in their fight, please join us at a rally on Thursday, February 23 at 12:30pm at 98th st and Madison Ave, to tell Sinai to Stop Stalling on Basic Rights and make greater efforts to reach a fair contract. Click here to RSVP if you can make it: https://forms.gle/BAaeSQ6YsysdbPQ79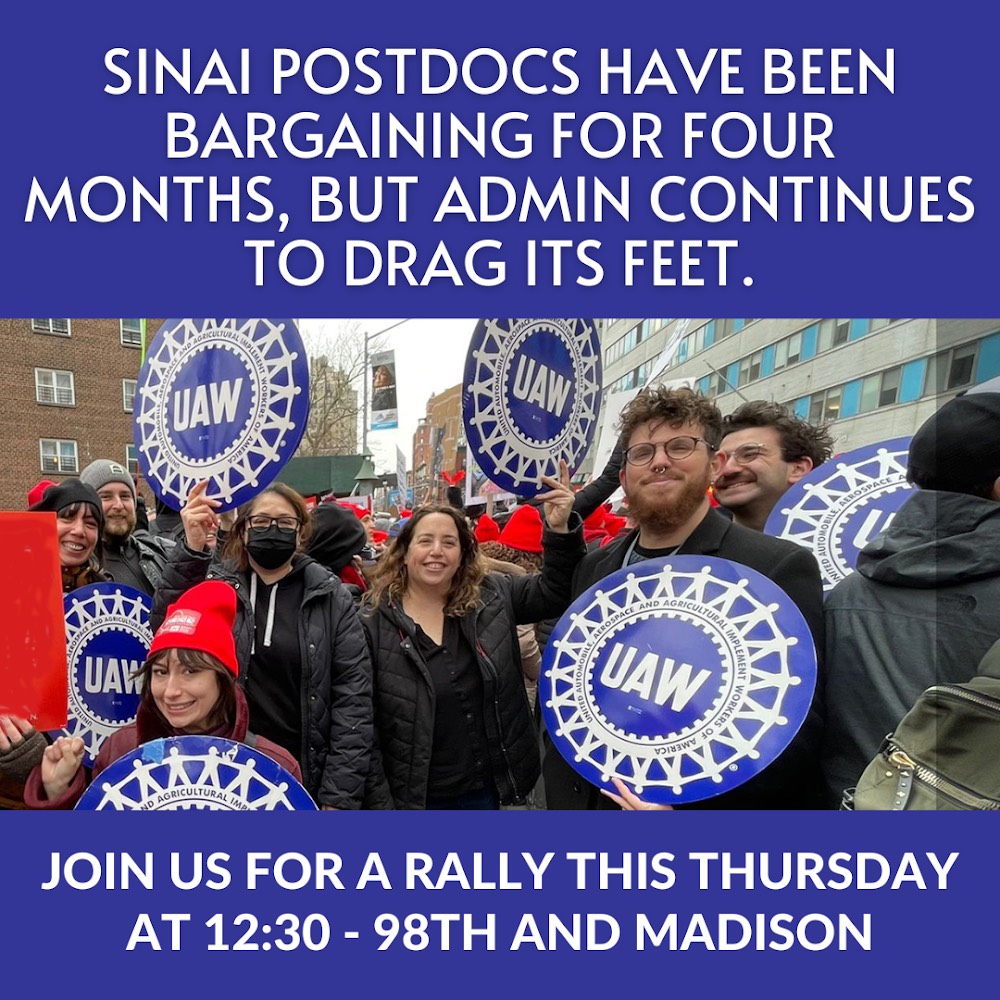 In solidarity,
CPW-UAW 4100 Executive Board
---
Want to stay informed? Check out our website and follow us on Twitter, Instagram, TikTok, Facebook, and join our and Slack​.