During the last week of June we had two lengthy bargaining sessions (read a comprehensive report from the 13th (June 29) and the 14th (June 30) sessions). In the meantime, here's a brief rundown of what's happened, what's coming up, and what we can do together to ensure a strong and fair contract.
😡 CU BLOCKING SALARY RAISES 😡
The 2.5% annual raise that all postdocs and ARS enjoyed in the past years was only guaranteed because of our union contract: before our 2020 union contract,there were no guaranteed raises.
We continue fighting for minimums and annual increases in negotiations that allow every postdoc/ARS to live in NYC.
CU's position: even if postdocs/ARSs agree on a raise with their PIs, at an individual level, Columbia is not required to process their raise until we negotiate a contract. If this is your case, please contact us here!
This is a serious misinterpretation of our contract that shows that they are trying to push us to accept a contract which is, effectively, a pay cut (their offer of $63.6k for a starting postdoc is equivalent to $54,324.21 in 2020 dollars).
How Can We Respond?: We all need to inform all postdocs/ARSs that Columbia is legally obligated to maintain the status quo and honor our contract. Article 5 Section 2 (on page 5) means they have to allow any raises beyond the minimums and mandatory raises being negotiated.
You can spread the word and download the attached poster to hang up in common areas where all postdocs/ARSs can see.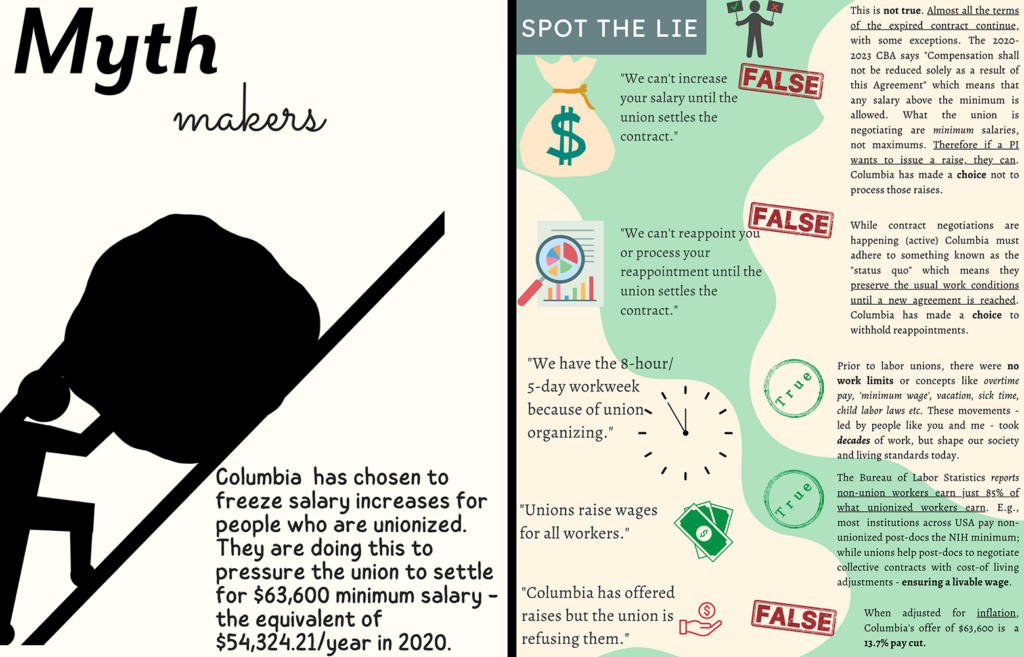 💥WINNING A FAIR CONTRACT! 💥DELIVERY OF OPEN LETTER TO COLUMBIA'S NEW PRESIDENT:
Come join us this Wednesday, 7/12, at 12pm by the Low Library Steps in delivering an open letter addressed to new President Minouche Shafik and the Board of Trustees, signed by over 500 postdocs and ARS.
In it, we inform them that we will not accept a contract without fair wages, better childcare benefits, better protections from harassment and bullying – and not without institutional support from the millions of dollars Columbia makes off of our research.
---
For more reports on bargaining, and to make sure you stay up-to-date, be sure to read the bargaining reports here and join our Slack channel for a firsthand account from postdocs/ARSs who attended the sessions. It's the best way to stay informed and engaged.
Together, we will WIN a fair contract! ✊
In Solidarity,
Your Friendly Neighborhood Bargaining and Organizing Committee
---
Want to stay informed? Check out our website and follow us on Twitter, Instagram, TikTok, Facebook,
and join our and Slack​.