Today, a delegation of postdocs and ARSs from Morningside, CUMC, Lamont, and Manhattanville came together to deliver the letter signed by over 600 of us to President Nemat Shafik's office. This letter makes it clear that we will not accept a contract without fair wages, better childcare benefits, better protections from harassment and bullying, recognition of all workers – and institutional support from the millions of dollars Columbia makes off of our research.
After months of negotiations and weak offers from Columbia, it is time we show the administration that we are serious about improving the working and living conditions of researchers and that we will not stop until we have done our part to improve the university and the science community as a whole!
Bargaining will re-commence next week, and there will be much more work for us to do as a union – and that means work from all of us to see a fair contract – but we hope that our welcome to our new president will help set a new tone at the negotiation table.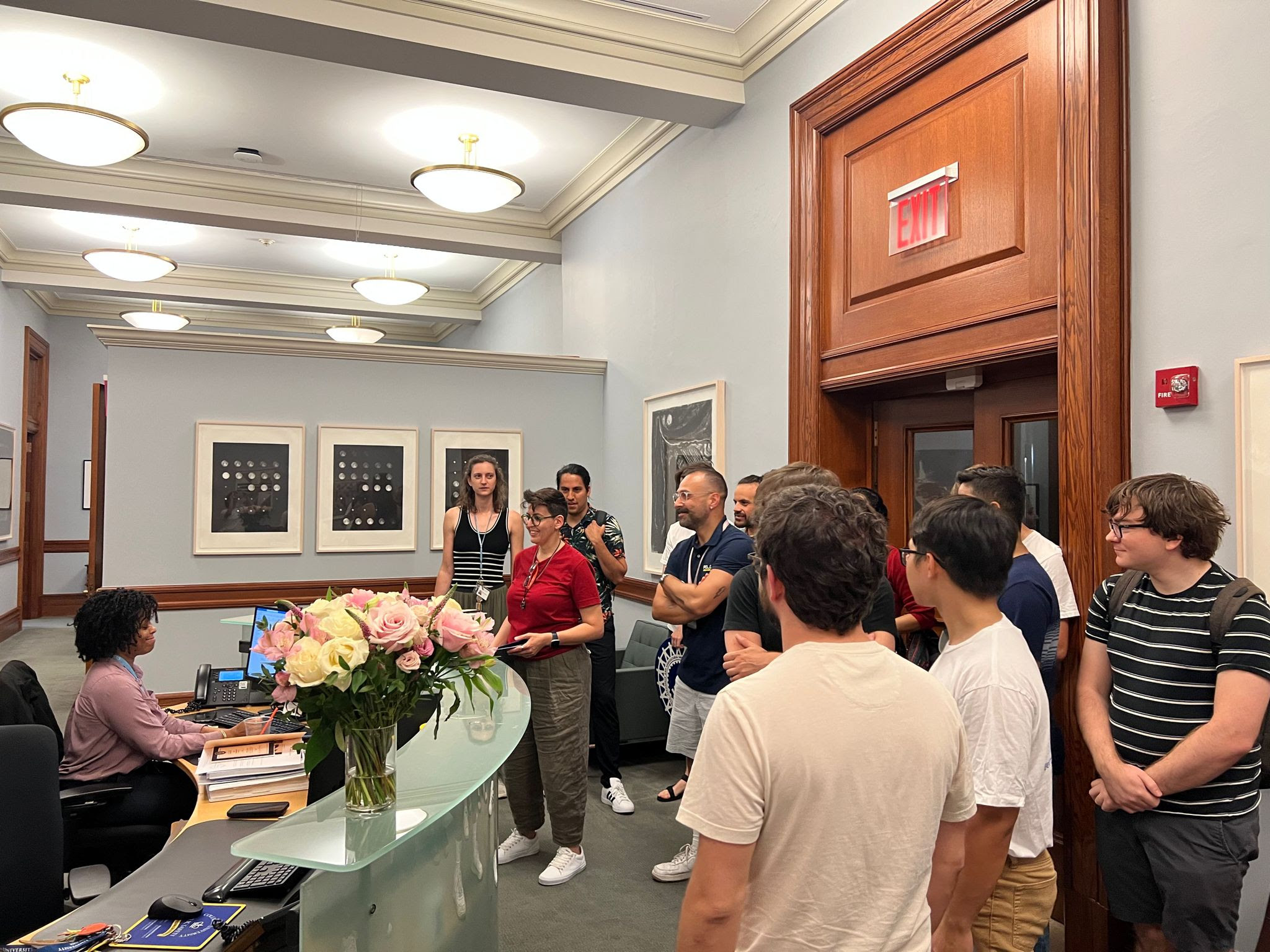 See Our Message to the President Below
In addition to the physical delivery of the letter, we followed up with a digital copy for President Shafik, the Board of Trustees, and Columbia's Bargaining Team. You can read that message, as delivered by Organizing Committee members Elsy El Khoury and Radha Raghuraman, below.
Dear President-Designate Minouche Shafik,
We hope this email finds you well. Attached, you will find an important letter regarding the ongoing negotiations between our union representing Postdoctoral Research Scientists/Scholars/Fellows and Associate Research Scientists/Fellows and the administration of Columbia University. This letter has been endorsed by over 600 members of our unit from various departments at Columbia University.
Our aim is to achieve a fair and equitable collective bargaining agreement that addresses the fundamental rights outlined in the attached letter. We would gladly meet with you to discuss why these goals are crucial for sustaining a competitive and sustainable research mission at Columbia University.
Thank you for your attention to this matter. We eagerly anticipate your response and look forward to making meaningful progress during our negotiations.
Sincerely,
Radha Raghuraman & Elsy El Khoury, on behalf of Columbia Postdoctoral Workers, UAW Local 4100
The Union Is Only As Strong As Its Members: JOIN NOW
In Solidarity,
Your Friendly Neighborhood Bargaining and Organizing Committee
---
Want to stay informed? Check out our website and follow us on Twitter, Instagram, TikTok, Facebook,
and join our and Slack​.