June 30th, 12:00 PM @ Hammer Building (CUMC), Room LL-110
Informal Organizing Committee notes
Your participation in Bargaining is very much appreciated! Join us in person or on our Slack channel to share your opinion/thoughts/concerns.
Take home message – After a long day CU Admin gave us a COMPLETE OFFER OF SETTLEMENT that fell short of addressing the needs of Columbia's postdocs/ARSs. Not only are the minimum salaries completely inadequate ($63,600 for postdocs and $70,066 for ARSs), but they also disregarded our request for additional economic support from Columbia's Central Money, rather than relying solely on research grants. We adjourned the session around 8:30 PM, with most of our members having already left. Negotiations will resume after the 4th of July break.
Just a reminder, during yesterday's session, CU Admin made some positive moves in non-economic areas with regards to their offer:
CU Admin agreed to include a definition of bullying and power-based harassment. They also acknowledged that once the new policy related to bullying and power-based harassment is officially approved, it will be subject to the grievance procedure. This is a significant victory as it addresses a longstanding concern from our previous contract negotiations.
They agreed to make changes to the Definition of Recognition & Appointments, which determines who qualifies as a postdoc and ARS covered by the union contract. The definition will be based specifically on the 2022 Faculty Handbook. This ensures that CU Admin cannot unilaterally change this definition without our consent, something they have previously done.
Regarding Postdoctoral Research Fellows, they did not accept our demands as states but returned with a counter offer. They are offering a lump sum of $3,000 per year for individuals who switch from Postdoc Researcher to Postdoc Fellow. Additionally, they are proposing a meeting with every fellow before accepting an extramural fellowship to discuss any changes in benefits. We had requested that meeting to include a discussion of the option to remain as employees with full benefits. Their offer doesn't completely address the issue, but it is still a positive outcome.
Overall, we made some progress in certain non-economic articles, and these wins should be celebrated.
Review CU Admin package
At 12:31 PM, CU Admin entered the room, and we began reviewing the package they provided us yesterday. We agreed to their proposed changes in the Recognition section, but we still need to discuss the Appointments article further.
We also reached an agreement on their suggested changes in the Side Letter regarding Bullying.
At 12:54 PM, we took a caucus to regroup and discuss internally.
We reconvened at 2:53 PM, and during that session, we presented an alternative language for Article 12, Section 10 (ART 12: INTERNATIONAL EMPLOYEES). Our changes specifically address the costs that postdocs/ARSs incur to maintain their visa status. CU Admin had some questions about Visa Status, DS-2019, and related matters.
Correct the Record! While we have not agreed to all non-economics we want to discuss economics:
We are also working to ensure that CU does not misinterpret our stance on the Tentative Agreement for non-economic topics. In their package, they write that we were open to a Tentative Agreement on all non-economic matters, but we clarify that we only agreed to specific language changes. This approach is unconventional, as an article is either fully Tentatively agreed upon or not. CU Admin acknowledges this point.
Despite CU's belief that most of the non-economic topics do not require further discussion, we have repeatedly requested them to address compensation. However, they insist on resolving minor issues before providing a different compensation number.
Our bargaining committee (BC) team has stressed the importance of discussing compensation regardless of whether the non-economic discussions are concluded. We have repeatedly emphasized that non-economic matters should not impact compensation, but CU Admin continues to disagree with us on this point.
At 3:21 PM, CU Admin requested a caucus.
CU's Admin Offer of Settlement
At 5:55 PM, CU Admin invited us to their room to present an offer of settlement. They clarified that the offer doesn't need to be final and can be adjusted as needed.
Day 14 – COMPLETE OFFER OF SETTLEMENT
Minimum salary for postdocs: $63,600 (edited)
Minimum salary for ARS: $70,066
For fellows, they propose a one-time lump-sum payment of $3,000 to compensate for lost benefits.
For existing employees, they offer annual increases of 3% in the first year and 2.75% in the following three years. The minimums will also increase by 2% each year.
They presented a table illustrating pay scales with the increased minimums and experience-based annual raises. Postdoc experience accrued before the contract is signed will not count towards the pay scale (e.g a 4th year postdoc will be subject to the new minimums under the new contract, and not the 4th year pay-scale minimum).
Regarding international employees, postdocs have the right to request their Principal Investigator (PI) to cover reimbursement of administrative fees and travel expenses related to visa stamp renewals. It's important to note that these reimbursements are subject to the availability of funds and the discretion of the PI. Decisions regarding eligibility for reimbursement are not grievable.
CU Admin emphasizes that this offer reflects a serious effort on their part to reach an agreement.
Correcting the record again
We noted that CU Admin once again included articles in their offer as tentative agreements, even though we have not tentatively agreed on them (wrong TAs in Appointments, Discharge and Discipline, Professional Development, Workspace and materials and Miscellaneous (bathroom equity). While they verbally acknowledged our non-agreement, their written documentation still states otherwise. 
To address this discrepancy and ensure a clear record, we sent an email at 8:02 PM, by our UAW servicing representative, requesting written clarification and correction of the official record. [READ THE EMAIL BELOW]
At 8:06 PM, the bargaining committee (consisting of Cora, Thiago, and Reisy at this point) reiterated that there was no tentative agreement reached regarding the aforementioned articles/sections. They expressed the desire to adjourn the session for the day, as most participants had already left.
The bargaining committee informed CU Admin that there are still numerous unresolved issues, including the unreasonable economic offer presented earlier in the day. They emphasized that, from this point forward, the university must maintain the status quo while negotiations continue.
The bargaining committee will communicate new dates for the next bargaining sessions on Monday, and the current session was officially adjourned.
Around 8:30-9 PM the session ends.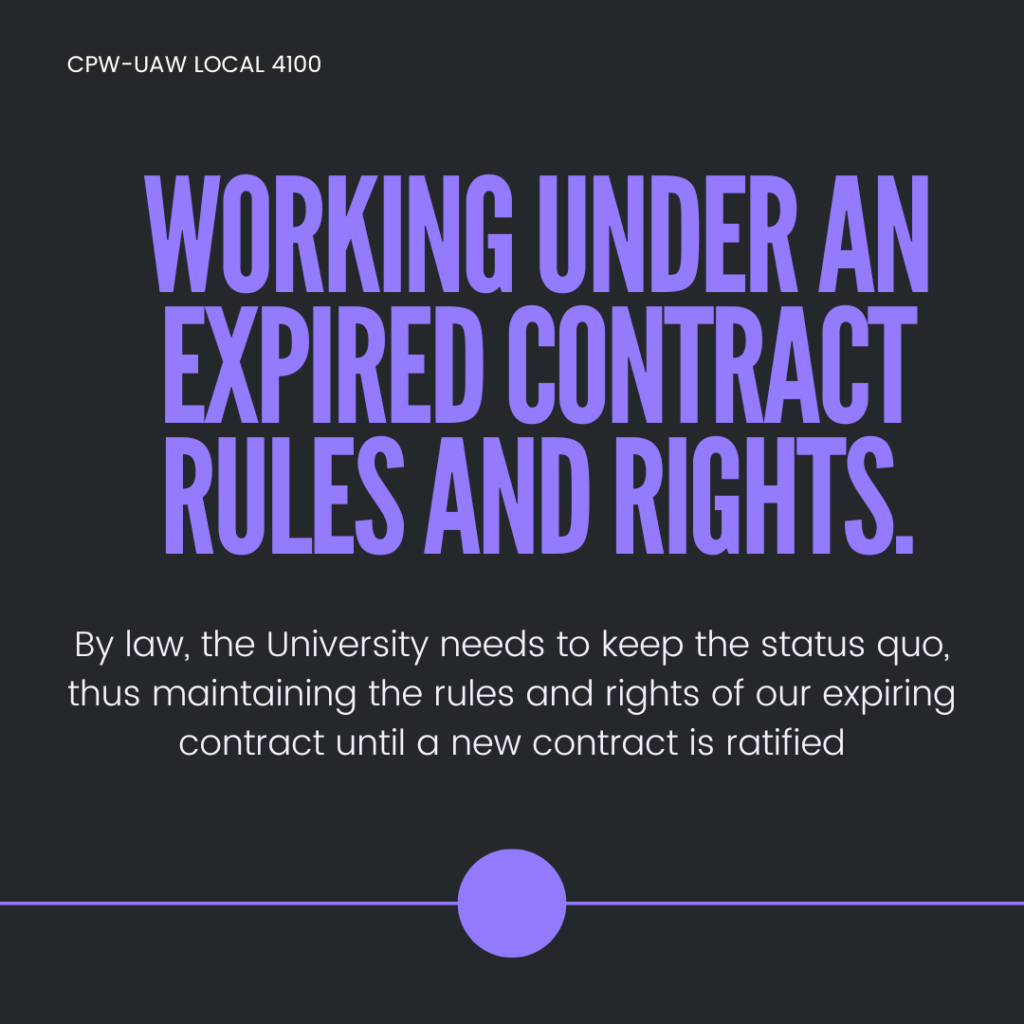 ---
DO YOU WANT TO KNOW MORE?
Read the notes from the other sessions!
Follow our next emails with updates on future steps and debriefing sessions!!
Reach out to us to get involved!
Follow us on social media! Twitter, Instagram, TikTok, Facebook, and join our and Slack​.
Share this info with your friends and colleagues!