💫 So many things happened in March!! 💫
Over 9 different Town Halls, we reviewed the improvements we want for our contract, from benefits to parent rights.
Did you miss it? Check the power points here!
There's still time to give your support to our demands! Hundreds of Postdocs/ARSs colleagues from all over Columbia have already signed up! Sign here
💫 So many things will happen in April!! 💫
On Thursday, 13th: April Membership meeting.
The Bargaining Committee has finalized our contract's package that will be presented to Columbia University on April 20th, the first day of contract negotiations.
April Membership meeting will be the last time to review and finalize the package, you can also give suggestions in advance > Add any final comment here!
[in person at CUMC or Morningside, or virtually on Zoom]
>> If you can make it in person, stick around for snacks and drinks with your colleagues Postdocs and ARSs.
💥April 20th: is THE day!!! 💥
But first, a little bit of background.
In fair advance (January), we requested Columbia to start negotiations early. Instead, the University offered only April 20 as the first bargaining date.
We then followed up with multiple emails asking for the time of the meeting and the composition of their bargaining team. No answer!
Being neglected and kept in the dark by our Employer is unfair. We requested Columbia to start the meeting at 10 am. Once we receive a response, we will be able to confirm with our members, so that you can all attend the first bargaining session.
Nevertheless, we will not be waiting for Columbia to get back to us.
>> On April 20th, at 9am we are launching a bargaining kickoff gathering in Manhattanville campus (where Columbia wants to hold negotiations).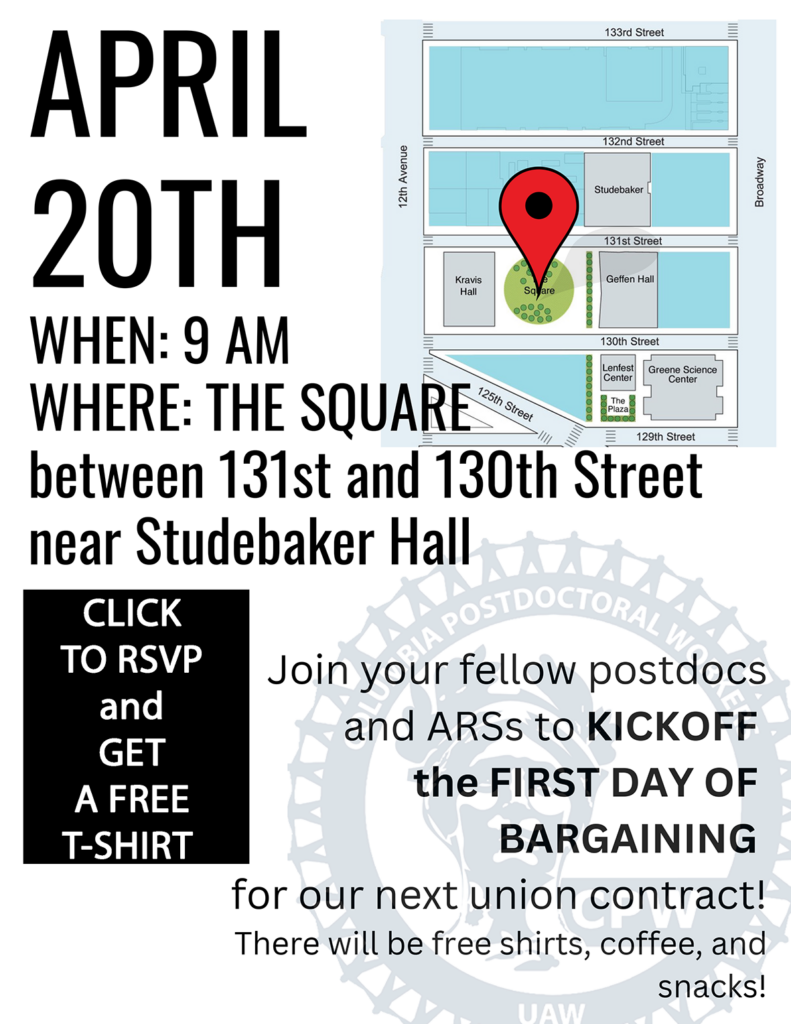 Join us! Your attendance is already a powerful signal of unity, determination and the drive to improve our working conditions. It will make a difference and contribute towards a favorable outcome.
And you can also stay and join the BC IN PERSON for the first bargaining session, and hear Columbia's response to our contract demands.
We will distribute our new Union T-shirts designed and voted by you on slack and IG. ….and there will also be coffee and bagels.
Cheers!
Your Friendly Neighborhood Bargaining Committee.
---
Want to stay informed? Check out our website and follow us on Twitter, Instagram, TikTok, Facebook, and join our and Slack​.