📢 April 20th is here!! 📢
Support your Contract demands!!!
Thursday, we will gather at 9 am on Manhattanville campus. Any single member can support the Bargaining Committee by showing up in person. We will show Columbia that we are united in asking modifications to our Union Contract and asking for hybrid bargaining mode.
There will be t-shirts, bagels and coffee!! We meet at 9am! You can stay as long as you want, and join the Bargaining Committee in the bargaining room at 10 am!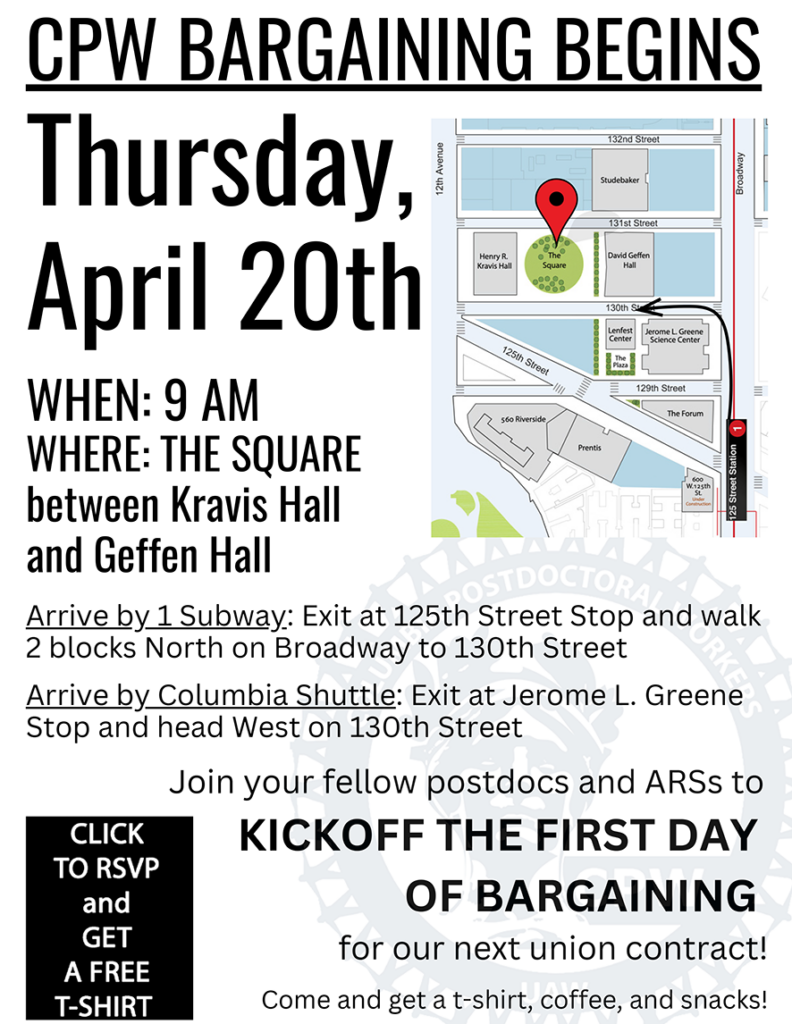 We officially start bargaining with Columbia University right after on Thursday, 20th at 10 am.
Yesterday, we sent the final package containing our Bargaining Goals and proposed contract changes to Columbia administration. Members contributed to its drafting until last Sunday, when the document was finalized by the Bargaining Committee. The Bargaining Committee will present these goals to the administration on the first day of bargaining.
We also sent them our proposed bargaining rules for the negotiation process, which include hybrid (in person and zoom) meetings.
Due to repeated delays by Columbia's administration, we are starting bargaining only 70 days before the contract expires. With these documents we are hoping to facilitate the negotiations as much as possible.
✴️Stay updated and involved in the process!!!! ✴️
Recap email after each bargaining session will follow.
Add the calendar of your union
After the bargaining session, we will send a summary of what has been discussed during the meeting. We are also organizing a zoom meeting (zoom link will be included in the follow up email) for you to debrief and discuss next steps with your Bargaining Committee.
Cheers!
Your Friendly Neighborhood Bargaining Committee.
---
Want to stay informed? Check out our website and follow us on Twitter, Instagram, TikTok, Facebook, and join our and Slack​.