We are voting YES to authorize a strike if it becomes necessary to win a fair agreement.
A recap on why we think this is best course of action: 🏃💨 🏃⏱️
🤏💸 🤏On June 30 (the day our contract expired) CU Admin made an offer that fell short in most key priorities established by a majority of postdoc and ARSs [read their offer here]
New minimum salaries of $63,600 per year – not even an adjustment for inflation of our current $60K, i.e. an effective pay cut!
No support for Housing – even though most NYC research institutions have guaranteed housing for their postdocs
No support for childcare in our contract – which means that their current offer to increase to $5,000/family could be removed any time.
No option for all fellows to be considered full employees – which means that fellows will still be penalized with lower benefits and complex taxation
🌑🙈🌑 Our PIs have been kept in the dark despite the results of these negotiations may very well affect their budgets:
Does your PI know that in our latest offer of July 31 we decrease our salary demands if CU provides us more economic support outside of research grants? This can be done:

with a lump-sum yearly adjustment in response to increased Cost of Living (Art 5, Section 8 and 9 on page 7),
a housing stipend to add to our salaries (Art 3, Section 3 on page 4)
or a higher childcare benefit like the one established in the grad student contract (Art 4, Section 1 on page 5)

Admin has refused to talk about any of these.
READ THE LETTER SIGNED BY PIs IN SUPPORT OF OUR CONTRACT DEMANDS
SHARE WITH YOUR PI IF YOU THINK THEY WILL SUPPORT!
🏃💨 🏃CU Admin has been trying to rush us into settling for a contract:
Back in January – we told them that we wanted to start negotiations earlier, to ensure we have the time to engage everyone and be representative of what the majority of postdocs/ARSs. They ignored us
They denied us the right to go to arbitration to settle a formal complaint (grievance), due to the unilateral removal of postdocs/ARSs from the schools of Journalism and Law. We have been stuck in Step 3 since April because they deny us the right to go to arbitration until a new contract is in place.
On July 1 – They blocked any salary raises until a new contract was ratified – some raises who had been planned by PIs back in February!
In August – Now they are telling some ARSs they have to choose either to stay in the union or continue co-mentoring postdocs.
🌀📝🌀 We have compromised, we have reasoned, we have backed up our contract demands with research, logic and clear examples…
CU Admin keeps stalling discussions about economics while rushing us to make further compromises.
By voting YES for the strike authorization, we send a strong message to CU Admin that we are united to take collective action, that we deserve more and should be treated with respect based on the value of our contributions to Columbia University.
As postdocs and researchers in the University of California and University of Washington have done, and as our colleagues at Mt Sinai will be doing this Thursday
💥We are voting Yes in our Strike Authorization Vote💥
Your vote matters! Your voice counts, and together, we can advocate for better conditions and a fair agreement that addresses our needs.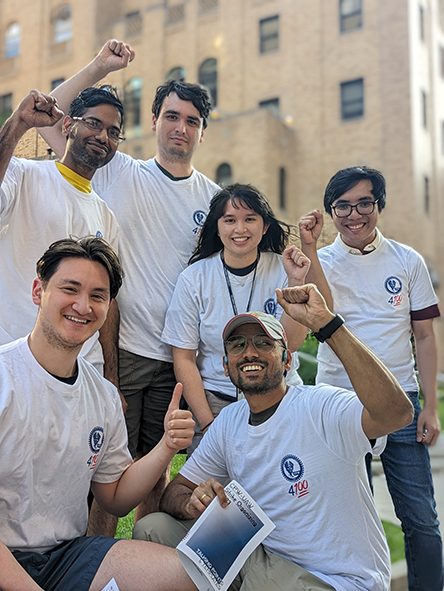 Best,
Your Friendly Neighborhood Bargaining & Organizing Committees.
---
RSVP to Join the Next Bargaining Sessions
Follow our next emails with updates on future steps!
Read the full report from previous bargaining sessions!
Reach out to us to get involved!
Follow us on social media! (IG, Twitter, Slack)
Share this info with your friends and colleagues!
CHECK THE BARGAINING ARTICLE TRACKER
---
Want to stay informed? Check out our website and follow us on Twitter, Instagram, TikTok, Facebook,
and join our and Slack​.