August 1st, 11:30 AM @ Roy and Diana Vagelos Education Center (CUMC), Rooms 404-405
Informal Organizing Committee notes
Your participation in Bargaining is very much appreciated! Join us in person or on our Slack channel to share your opinion/thoughts/concerns.
Take home message – We Tentatively Agreed the articles on Professional Development, and Copyright & intellectual Property. We won the right to have additional Faculty members as co-mentors. Over the years we have learned it's extremely beneficial to avoid all our careers depending on one single individual (or their reference letter). We have also established new venues to resolve and improve authorship and IP policy at Columbia. These are softer wins that we will need to ensure we strengthen during the life of our new contract.
We start at 11:38 AM presenting our updated articles for Copyright & Intellectual Property (Art 6) and Professional Development (Art 19).
We are describing how much we simplified the language and we are explaining why we retained what is currently in our proposal.
Section 2 – to guarantee some recourse in disputes regarding authorship.
Section 3: Individual Development Plan – we kept the proposal to have co-mentors so we have more than one Faculty member to rely on and an initial IDP discussion of 6 months (to establish tight away a clear goals for the postdoc/ARSs and the PI)
Section 4 – We proposed a pathway to resolve authorship disputes but we are open to other formulas.
We then moved to article 6 and described the changes, as well as examples from other universities that are in agreement with our proposal, including an example of an invention report from Columbia from 2004.
Mike Shelanski (Faculty member and member from the University side) has commented that we are insane to propose something like this and stood up and left the room.
Our UAW servicing rep, Reisy, described the number of concessions we have agreed to and their behavior is very offensive. We provided documentation that clearly shows the number of movements made from our side and it's disrespectful to treat us like this.
We were called "ingenuous" for continuing the conversation on Professional Development and IP because it isn't in their framework to discuss something in this topic. 
Admin reiterated that they will never include this in our contract and that clearly we are still far apart from each other.
We explained again why it is important for our members to get a counter proposal from the university.
The university continues to suggest that we include a mediator in the room as soon as possible.
The argument continues and we keep explaining that we need to understand why they defend their position and we cannot accept a simple no without explanation.
We finally got to discuss our proposals more in detail, our intentions with them and get from them exact details of what they can't accept.
At 12:36 PM we have a lunch caucus. We reconvene at 2:10 PM
We verbally offered to drop Article 6 with the suggestion of a working group that would function similarly to the anti-bullying working group that was put in place by our first contract in 2020, leading to a policy proposal that will become the university anti-bullying policy. While they have not agreed to this offer just yet, this is currently an open discussion.
Before dropping article 6, we made it very clear that their argument against it it's not based on facts, as we know this works at other universities and we show plenty of proof of how this would make sense in a union contract.
We are now moving to discuss ART. 19: PROFESSIONAL DEVELOPMENT in more detail.
On section 4 of article 19 – They suggested to instate a committee made of researchers at all levels (Faculty, postdocs and Graduate Workers) that could review the case and make recommendations

We understand that some of this decision can not go to an arbitrator that may not fully understand what the scientific problem is, but we would like to have clear guidelines for the worker to follow if they find themself in in the middle of an authorship dispute. 
Admin is now moving backward by suggesting that this entity already exists in the Union-Management committee, a committee instituted with our first contract in 2020 that so far has resolved only a few issues and generally focus on topics that are more management related rather than disputing issues for individual workers.
On section 2 of article 19 – Mike Shelanski suggests that "Academic norms" is too broad of term to be effective. We point that this specific language is already being applied in the contract of postdocs at UConn, and a similar language has already been agreed by Mt. Sinai's Administration in negotiations with their postdocs. 

They refuse to include the language on section 2 because is not a contractual item (again, like for everything else), but they say they thought this was address with their proposal, including working with OPA for resolving these issues.
Regardless, we agree it would be more beneficial to develop an authorship agreement form as the ones the NIH provides.  
On Section 3 – Mike Shelanski (Admin) suggested that if the co-mentorship is agreed upon, the majority of the cases would not even need a committee to resolve disputes. 
At 3:29 PM we asked clarity on whether the university will have a counter proposal on our language and they are taking a caucus to discuss this topic. They are back at 4:34 PM
Admin came back with two proposals regarding IP and Authorship disputes (not in written yet):
IP – a working group with Columbia Technology Ventures to ask questions about IP policy with 90 days of contract ratification.
Professional Dev – they are open to include a few of our proposals for the IDP including having co-mentors for postdoc/ARSs and have working group with OPA to develop further tools for Professional Development.  And a committee will be form where the union can bring up disputes regarding authorship.
We request to see it in written. They request a caucus. At 5:40 PM they bring back their proposals.
We request a caucus to discuss their proposals and next steps. 
During the caucus we discussed some minor changes to Admin's proposal on Art 6, 19, and 20, but we generally believe this is a win on our side that will allow us to improve IP and professional development policies at Columbia, similarly with what we achieved with Power-based harassment.
At 6:47 PM we resumed the session and asked a few questions about their proposal
We requested confirmation that the committee described in ART 20 of the proposal above, is also composed of Postdoc/ARS and the University administration agreed, and that it could also include Assistant Professors etc.
We also clarified that the number and frequency of the working group described in their proposal in ART 6 can be flexible and as needed depending on the case.
We also discussed the groups/committee discussed in Art 19, and the university clarified that the specifics of the group would not be in the contract but these will be discussed within the group, and that the group can provide suggestions/recommendations to the university.
At 7:08 PM, we requested one more short caucus to discuss their response to our edits to the proposal
When we re-convened we continued discussion on the Articles and Tentatively Agreed to these articles:
ART. 6: COPYRIGHT AND INTELLECTUAL PROPERTY:
We are establishing a meeting where the Union can bring issues to the Columbia Technology Ventures (office related to patents) and other Columbia offices responsible for IP.
When a worker has a problem related to IP, we can convene a meeting specifically with CTV and Columbia admin.
This can become a tool for the union and its members to raise and hopefully resolve issues of IP for workers when they come up.
ARTICLE 20: RESEARCH INTEGRITY
We are similarly establishing a venue where the union can bring postdoc & ARS unresolved issues with Authorship.
We can bring up an issue as a Union, and the committee established will make a recommendation (that is non binding — which makes this a soft win).
However, any PI involved in the authorship dispute will have to defend their choice of authorship in front of their peers, with us as a union on the other side to defend worker.
ARTICLE 19: PROFESSIONAL DEVELOPMENT
We are establishing a committee with the Office of Postdoctoral Affairs to promote professional development best practices.
We will need a lot more work to promote and enforce the use of Individual Development Plans (which we have found they help postdocs/ARSs when problems arise).
In parallel, our contract now establishes the right of postdocs to have co-mentors of their choosing outside their main PI. This is an important win to prevent our careers depend on only one Faculty member.
The session ended around 8:30 PM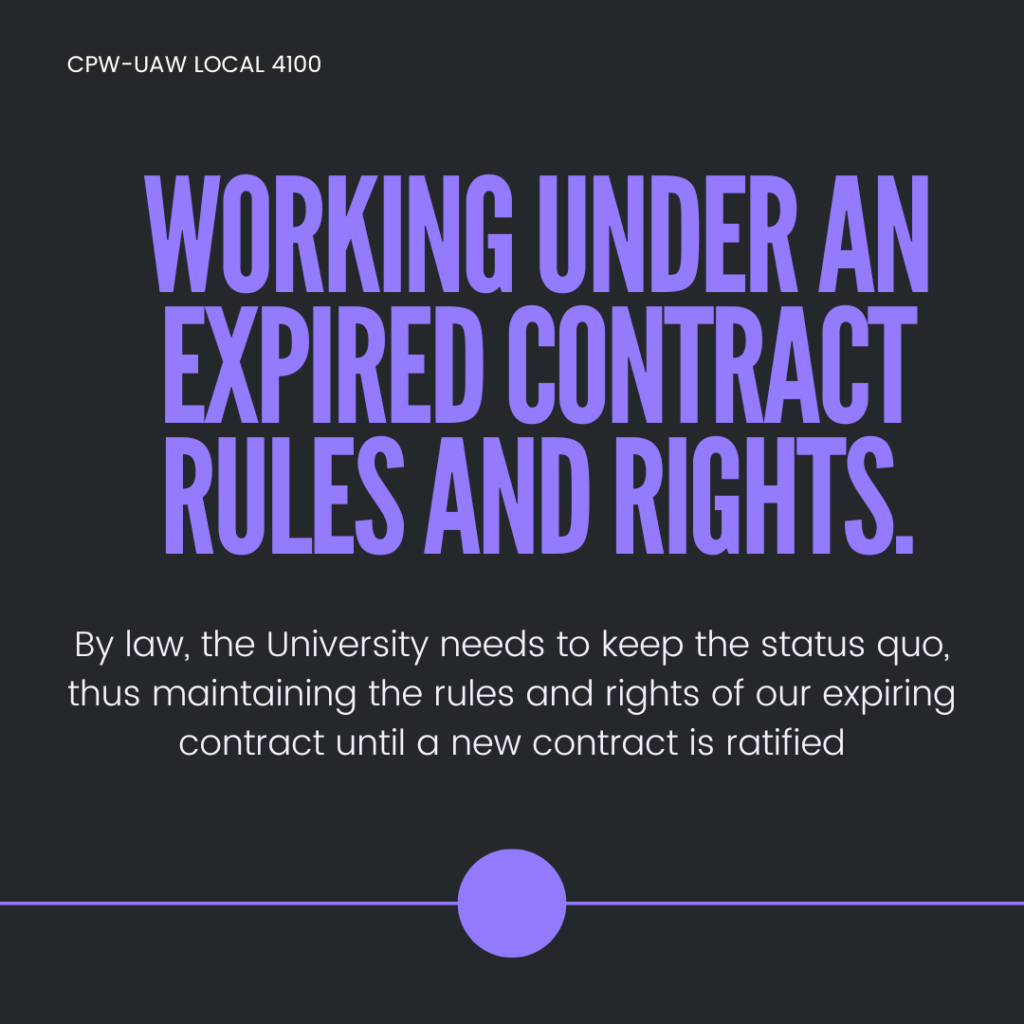 ---
DO YOU WANT TO KNOW MORE?
Read the notes from the other sessions!
Follow our next emails with updates on future steps and debriefing sessions!!
Reach out to us to get involved!
Follow us on social media! Twitter, Instagram, TikTok, Facebook, and join our and Slack​.
Share this info with your friends and colleagues!