📣 This week we are voting to authorize a strike. Columbia is preventing progress on several of our core priorities such as compensation, institutional support for housing & childcare, fellow recognition etc. We have backed up our contract demands with research, arguments, and clear examples, but they are refusing to listen. As a last resort, we are holding a strike authorization vote. If successful, we will send a message of strength and unity that will hopefully propel negotiations forward.
Columbia has been marking our emails as spam, or sometimes not even delivering them. Please forward this link to all your coworkers to make sure everyone gets the chance to vote.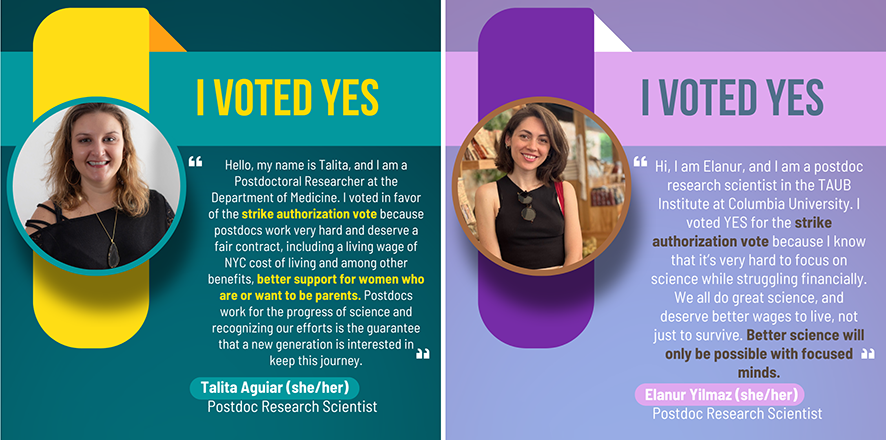 🤝 A strike authorization vote would give our bargaining committee the power to call a strike if they decide that is necessary to reach a fair agreement. Postdocs and researchers in the University of California and University of Washington have done this already, and our colleagues at Mt Sinai are also voting to authorize a strike starting today.
🏆 We want to win real improvements in our next contract (read more background here). We have been mounting pressure with petitions, rallies, social media campaigns, and many more actions. Now we need to escalate. Can you take a moment to vote yes, and send a clear message to Columbia?
Sincerely,
Your Friendly Neighborhood Bargaining & Organizing Committees.
---
RSVP to Join the Next Bargaining Sessions
Follow our next emails with updates on future steps!
Read the full report from previous bargaining sessions!
Reach out to us to get involved!
Follow us on social media! (IG, Twitter, Slack)
Share this info with your friends and colleagues!
CHECK THE BARGAINING ARTICLE TRACKER
---
Want to stay informed? Check out our website and follow us on Twitter, Instagram, TikTok, Facebook,
and join our and Slack​.