As members of UAW, we have an exciting opportunity to shape the future of our union by participating in a historic election to elect the President of the UAW International Union directly. At the end of last year, UAW members in our region already made history by electing the first academic worker, Brandon Mancilla (former president of the Harvard Graduate Student Union), to the International Executive Board as our Regional Director (the Board consists of the President, three Vice Presidents, the Secretary-Treasurer, and nine Regional Directors).
Because no candidate to the office of International president received a majority of votes, a run-off is being held between the two candidates who received the most votes in this first round of elections.
This historic election follows a 2021 union-wide referendum, One Member, One Vote (1M1V). That referendum determined that UAW members would directly elect their leadership, rather than having delegates choose the national leadership at each constitutional convention. By participating in this election, you are able to directly elect the candidate who will set the tone for contract fights and more across all UAW locals for the next four years.
Ballots were mailed to UAW members on Thursday, January 12, 2023. If you haven't shared your address with us, update your mailing address to receive a ballot!
Can you take a moment to update your mailing address?
Don't miss this opportunity to participate in a historic moment for our union. Update your mailing address today to receive your ballot.
Would you like to find out more about the candidates?
The Candidate Forum for the office of International President, with candidates Shawn Fain (UAW Members United) and Ray Curry (Curry Solidarity Team) was held last Thursday; watch the full debate here to learn more about the candidates!
TODAY AND THURSDAY: Orientations for new postdocs/ARS followed by socials for all members!
>>> Click the pic to RSVP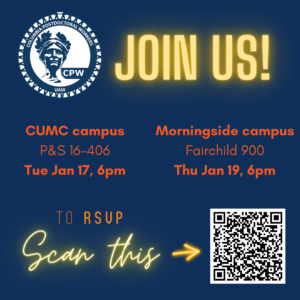 TOMORROW: Picket in solidarity with Harper Collins on strike
This Wednesday Jan 18th at 12:30pm UAW Local 2110 and members of Harper Collins will be holding a rally at the parent company, New Corp. Workers/members at Harper Collins have been on strike since November 10, 2022. Two months is a long time!!
Harper Collins has refused to return to the table to bargain a fair and just collective bargaining agreement with our members. Shame on them!!
Reply to this email if you are able to join us at the picket outside New Corp 1211 Avenue of the Americas (6th Ave) between 46th and 47th at 12:30pm.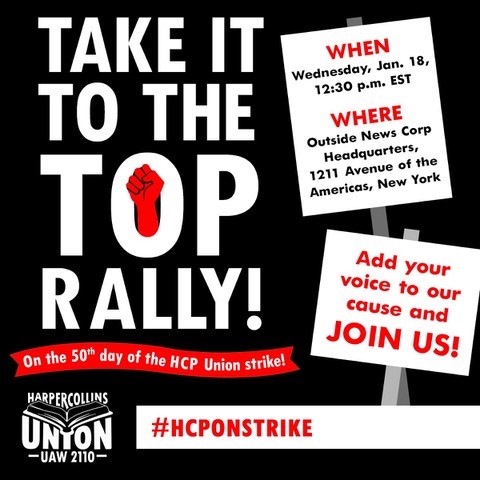 Solidarity,
The Columbia Postdoctoral Workers
---
Want to stay informed? Check out our website and follow us on Twitter, Instagram and Facebook.