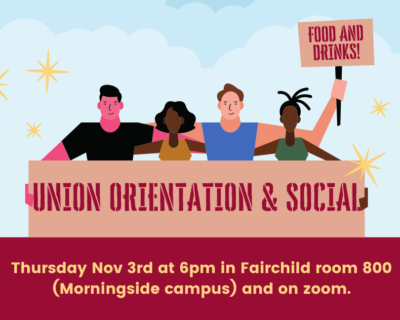 Join us to meet postdoc and Associate research colleagues for an orientation and social this Thursday Nov 3rd at 6pm in Fairchild room 800 on the Morningside campus, and also on zoom.
Food and drinks will be provided.
Didn't receive your ballot for UAW elections? Request a replacement today!
This November, for the first time in the history of the UAW, members will directly decide who will lead our union on the International Executive Board (IEB), the leading instrument of UAW.
If you have not received a ballot in the mail by now you can request a replacement ballot at https://uawvote.com/newRequest or by calling 855-433-8683 (their hours are Monday-Friday, 8am-8pm, and Saturday 9am-5pm). Please note that a replacement ballot may take about 7 days to get to you after you request one, and ballots should be returned in the mail by November 18 at the latest to ensure they are received by the November 28, the 2022 election deadline.
Make sure you participate in these historic elections and have your voice heard by casting your ballot!
In solidarity,
CPW-UAW Local 4100 Executive Board
---
Want to stay informed? Check out our website and follow us on Twitter, Instagram and Facebook.