Reminder about tomorrow's Town Hall to learn and discuss about the Financial Condition of Columbia University: A thorough analysis of the endowment, revenues, expenditures, and the financial resources of the University.
Check Flyer attached
🔥 2nd Bargaining Session at CUIMC – This Wednesday!!! 🔥
After a lot of back and forth, Columbia's administration has confirmed our Second Bargaining Session on Wednesday May 3rd 1pm-4pm on Hammer Building Lower Level LL 210. We are frustrated that they are not confirming time and locations until at the last minute but we will keep updating about future sessions.
We plan to present our proposals on COLUMBIA HOUSING, INTERNATIONAL EMPLOYEES and if there is time, APPOINTMENTS. We will also ask some questions about their proposed contract changes.
Join the bargaining session! The more of us standing behind the bargaining table, the more we show the administration that we need timely appointments, protections for international workers, and support for affordable housing in NYC!
RSVP to attend this and any of the upcoming sessions that we have confirmed
(more will be added as Columbia's administration Confirms)
---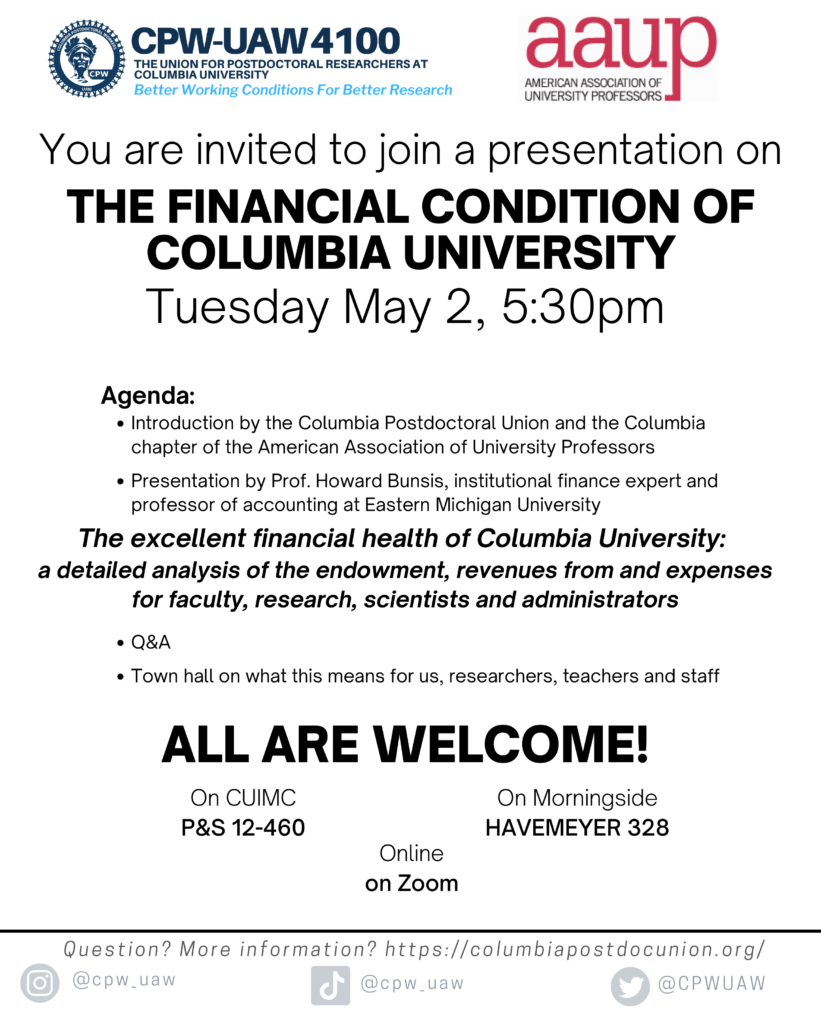 ---
Want to stay informed? Check out our website and follow us on Twitter, Instagram, TikTok, Facebook, and join our and Slack​.