Yesterday, May 9th, we had our third bargaining session for our Contract with Columbia University's Administration!!💥💥💥
Here's a recap of what happened on May 9th:
We met in front of Studebaker building, CPW set up tables and Postdocs/ARSs came to socialize, and get t-shirts, pins and flyers.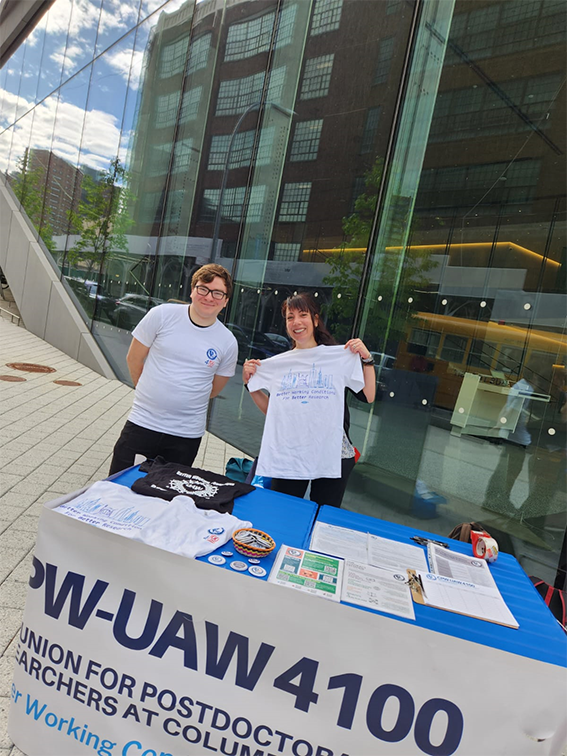 10 am, Start of bargaining!
…..For us… CU administration team joined ~ 10:20 am.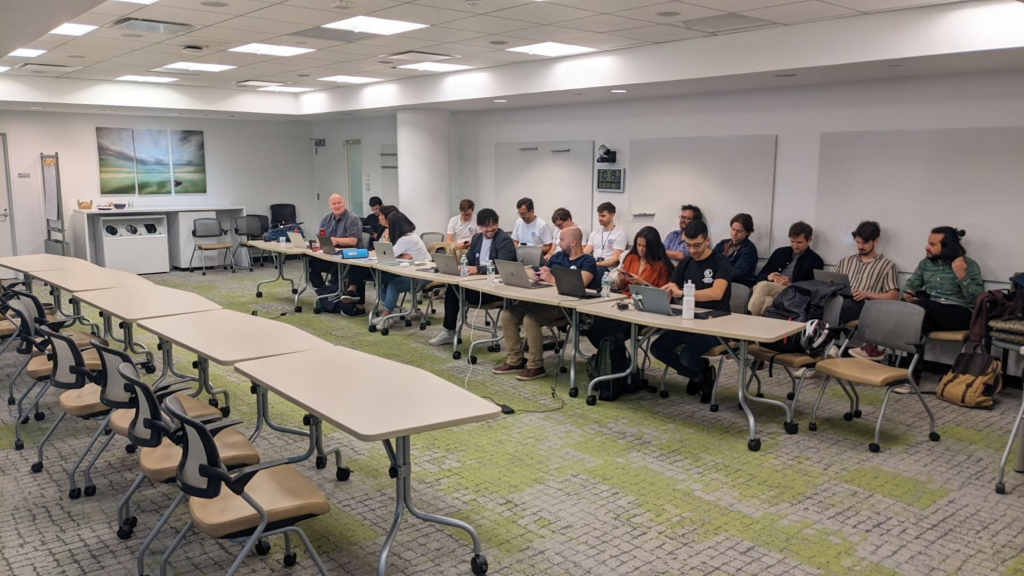 During this session, the following articles were discussed:
Our main goals: lower healthcare premiums, protection from CU unilaterally modifying benefits, create a fund for unexpected healthcare costs, and having CU helping with relocation costs.
CU admin's response was to outright reject everything, complaining about our "laundry list" of demands. We responded that we need their proposals, especially on compensation, to tailor our requests further.
The CU admin stated their goal of maintaining a unified set of benefits to all officers of research.We responded that benefits and healthcare are critical topics for Postdocs/ARSs, who are more vulnerable due to low pay.
Compensation:

We presented our compensation demands, including cost of living adjustments (yearly raises tied to inflation), and a raise in minimum salary.
The CU admin called our demands unreasonable. They expressed a desire to "follow the 'market'" – though inconsistently, they seemed to ignore data on salaries after PhDs in the whole market (inside/outside Academia).
The CU admin argued that all money should come from PI grants. They said CU will not fund compensation through its operating budget, despite other institutions doing this (Princeton, MIT).
The CU admin questioned if our salary demands are appropriate for people starting at an "entry-level job" and with "zero-experience" – ignoring the training and skills we bring to our jobs and the not-entry-level tasks we routinely perform.
The CU admin has not made any offers on compensation – they "are working on it" and will "present it soon" (timeline unspecified). This is part of a consistent pattern in which they are not responding with specific offers on any economic topics.
International Workers:

We want better assistance for workers with visas: eg, providing longer duration. We introduced examples of workers who have had visa issues created or exacerbated by CU admin, and therefore, were not able to travel, missed conferences, and were stuck in their home country…
The CU admin does not agree that this should be addressed in the contract.
A representative from the ISSO office was invited over She seemed surprised to hear how difficult it is for us to deal with departments re: visas.
Pay for Unused Vacation:

CU admin wants to take away our right to receive pay for unused vacation days at the end of our appointments.
CU admin claimed that unused vacation is a problem for budgeting, and that postdocs should just take their vacation days.
We explained that while we agree that we should take vacation, we are often discouraged from taking vacation by our PIs.
During the session, we took breaks to discuss our strategy: the CU admin does not seem to be bargaining in good faith – rejecting all our proposals, not discussing contract language, and refusing to present their compensation offers. This does not follow the legal requirement of good-faith collective bargaining, and as such means we have grounds to file an unfair labor practice. Should we use this to escalate?
What's next?
Next bargaining session is on Thursday, May 11th, 10am at Hammer Room LL204/LL207, Medical Campus, and another, on Monday May 15th 1pm location TBD.
Join the sessions! Witness the negotiation as it unfolds! Join the Organizing Committee!
We will have one single debrief session this week on Zoom on Friday May 12th, 12:30pm.
RSVP for the debrief! 
And join our slack for live updates and commentary during the bargaining sessions.
---
RSVP to Join the Next Bargaining Sessions
Follow our next emails with updates on future steps!
Read the full report from the 3rd bargaining session!
Reach out to us to get involved!
Follow us on social media! (IG, Twitter, Slack)
Share this info with your friends and colleagues!
CHECK THE BARGAINING ARTICLE TRACKER
Cheers!
Your Friendly Neighborhood Bargaining Committee.
---
Want to stay informed? Check out our website and follow us on Twitter, Instagram, TikTok, Facebook, and join our and Slack​.