May 9th, 10 am @ Studebaker, Room 469.
We arrived at 10am, the Columbia administration arrived around 10:15 am, and we got started.
20 of us were in the room right now fighting for a better contract. There are 13 postdocs in the room standing behind our Bargaining Team of 7.
The first topic was benefits!
The union bargaining team presented our demands for updates to the contract related to benefits, citing examples and information gathered from the bargaining survey that a majority of postdocs completed, with benefits being rated as one of the highest priority topics.
Contract demands include:

an update to the contract that states that benefits can not unilaterally be changed by the administration without consultation of the union,
the start of fund to be made available to cover healthcare costs for members who need it,
relocation costs to be provided by the university to support new hires moving to New York City, and housing support that provides a 10,000$ housing stipend, paid by the university.
The university's initial response is that they are rejecting all the suggested changes on benefits. They tried to emphasize that there have been increases to certain benefits since the contract came into effect, which we have access to – which is true. However, their response seems to ignore the actual requests – which still allows for changes to benefits, but not unilateral changes whereby the university would remove our benefits – such as they did with retirement (they cut retirement contributions during the pandemic!).
They have implied some openness to discussions on relocation costs, but nothing concrete. They are supposed to give us concrete language on specific articles, will they ever do that or are we just chatting?
Columbia Admin asked if we would consider the possibility that the fund for postdoc/ARS expenses that we suggested could be operated through the Office of Postdoctoral Affairs (OPA), and the use of FSA accounts. These topics suggest some room for discussion – pending solid contract language, a fund through OPA, and/or deposited from the university into FSA accounts would be wins for the contract. To be clear, this is still just table discussions and it is still unclear if these things will be agreed or properly offered, as the Columbia side is not offering counter offers in terms of contract language, but generally just discussing ideas.
A key point that the administration keeps emphasizing is that they have a consistent benefits package across all officers of research (this is an employment designation that the university uses that includes our members, and also other job titles, such as professors). Our bargaining committee is emphasizing that they understand this aspect (it's a topic that came up in the first contract), and the updates we provided are actually designed to allow for a consistent benefits package across officers of research, with updates that provide increased protections to our members, and also improvements that meet our needs, while acknowledging and addressing that we are the lower salary tier of officers. Just because other officers like us have the same benefits as officers with higher salaries, it does not mean that it is working for us.
We decided to take a break and caucus!
There was some talk on strategy – we are continuing to push on asking for their compensation offer, which they have thus far not stated their offer, despite us asking multiple times.
The next topic we will bring up after they return is on compensation.
There was also some discussion on the bargaining process. Legally, the union and the employer (CU) have requirements to bargain in good faith with each other, as specified by labor law and supervised by the NLRB.
So far Columbia's Admisntration has been disregarding the process, not offering proposals by their own and not treating us like equals at the table. We think that is troubling but would want to hear from you! Join our organizing meetings, and recap discussions post bargaining sessions. Next one us this Friday at 12.30pm on zoom! [RSVP]
After the caucus, the next topic was compensation!
Our bargaining committee presented our compensation package, which includes changes to our minimum (increasing to 90K), updating yearly raises based on COLA (linking yearly raises to inflation, Cost Of Living Adjustment). We also clearly emphasized that at least part of the money that is requested should come from Columbia money, not just from the PIs, in particular for topics like the COLA adjustments.
The initial response from Columbia was to call the demands unreasonable. They are emphasizing their desire to focus on "what the market is". They are also pushing back strongly on the idea that Columbia's Administration can fund compensation through their operating budget, they insist that all money should come through PI grants. We gave examples of Princeton and MIT, who have supported research and postdoc salaries with central University money.
On the topic of the "market", there was some conversation on "what is the market". Our side presented data on average salaries for people with PhDs across different fields (beyond academia), showing that salaries exceed at least 90K, often well above 100K, across different sectors. It has been emphasized from the union side that there is a general difficulty with hiring postdocs – also reflecting that postdoc jobs do not compete with the market of options we have available. We are also emphasizing that the cost of living in NYC is a key factor in our demands. The Columbia administration continued to treat the demands as unreasonable, without engaging in any debate or counter-offers on what they considered an acceptable offer.
Are years of PhD research experience worth anything to the administration? "I don't think the market rate is 90K for a postdoc who comes in with zero experience" – CU Admin
Short break (lunch break – we are not currently caucusing).
Next topic was: International workers.
Columbia's Administration brought an additional person to the meeting who is joining for this section, Jane Acton who works with ISSO / the international office at Columbia university. She is being introduced as a topic expert who can help answer questions and work on topics related to international workers & visas.
The initial discussion was about visa lengths, and most specifically, the duration of the DS-2019 which is a visa document related to the J1, which is a very common visa for international workers to be on. We request that where possible, the duration of the DS-2019 be set as the maximum number of years allowed (for example, the length of funding / contract), whereas currently duration is often set to be renewed every year, at cost to the employee (and the employer). Jane Acton, the ISSO representative, seems a bit surprised that departments aren't necessarily doing what seems optimal.
The other broader comment from the Columbia administration is that they consider this to not be appropriate to be put into contract language.
The discussion is largely oriented around what belongs in the contract, and how to address problems. The administration keeps trying to state that these things do not belong in the contract. The union team is emphasizing that after 3 years of having a contract, with numerous issues that have arisen, we understand that stating that "things will be addressed" is not sufficient to actually address problems. The union has brought up several examples of workers who have had issues whereby the university has created problems and not done visa management appropriately.
Overall, they tend to emphasize that they think their processes are sufficient, that the union and postdocs/ARSs should just be individually reaching out with issues to the Administration (which we have done regularly, several generations of postdocs) wasting our energy and time, and that if some cases go wrong, it is not something that the contract can address.
We are now on a brief break – the general consensus from our side is to agree that visa topics are very complicated, and some specific notes and examples raised do reflect real difficulty in providing clear / useful / actionable contract language. The plan is to revise the contract language on this topic and present a revised proposal.
Last topic was vacations.
In particular their suggested edit to the vacation clause – to remove the section that states that our unused vacation days can be paid out at the end of contract / termination.
They repeated their desire to remove this clause. They claim that the original intent of this clause was to encourage postdocs/ARSs to take vacation, and that they trained PIs to encourage their postdocs/ARSs to do so. However, they think that we are not taking vacation because postdocs/ARSs want to focus "in career development" and "moving forward their projects", which creates a budget problem when the appointment ends, as grants do not allocate money for unused vacation time.
It was noted by our team that their original argument (in the first section) was that unused vacation is difficult to track, and that they are currently making a different argument.
From our side the union is asking questions and making some key points: for example, that postdocs/ARS are often discouraged from taking vacation. The union agrees with the desire to allow people to take vacation, but believes this is still an important contract element.
The closing note on vacation is for each side to get more information, and bring edits – nothing was formally decided
End of bargaining session #3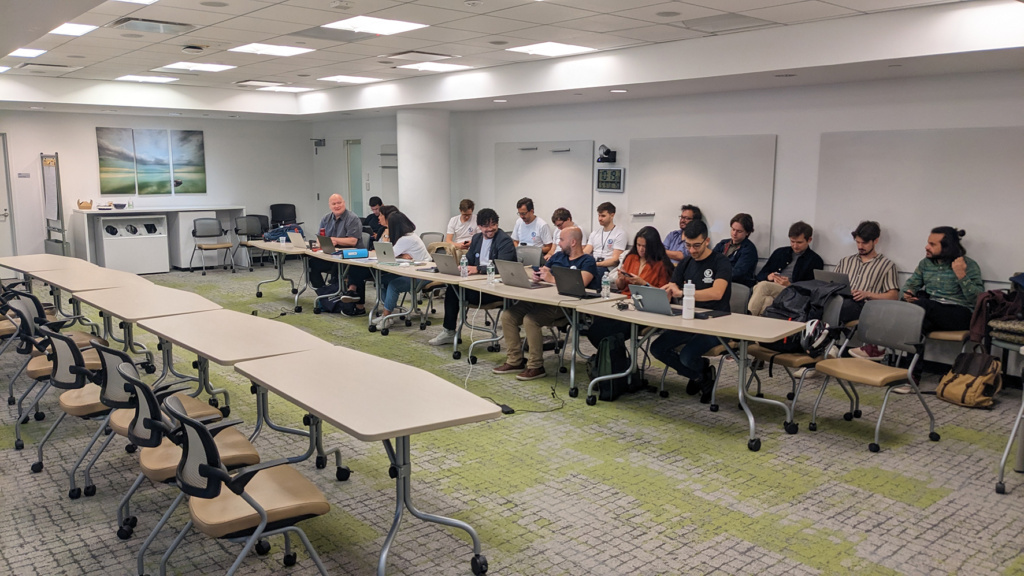 ---
DO YOU WANT TO KNOW MORE?
Read the minutes from the other sessions!
Follow our next emails with updates on future steps and debriefing sessions!!
Reach out to us to get involved!
Follow us on social media! Twitter, Instagram, TikTok, Facebook, and join our and Slack​.
Share this info with your friends and colleagues!