Together, we've had over 20 bargaining sessions with Columbia, laying out why postdocs and ARSs need a living wage – and why the university should provide institutional support for it. We rallied and handed out flyers at a lecture hosted by President-Elect Shafik. We've delivered a petition demanding a better contract. We've reached out to faculty to ask for their support, and received several signatures on our letter to the university. We even made clear our threat to withhold our labor by taking a Strike Authorization Vote.
But, the university continues to refuse to make an offer in line with what the majority of postdocs and ARSs need. And so, we are preparing to strike.
Our first step: let's show Columbia what our unity behind a better contract looks like by picketing President Shafik's inauguration.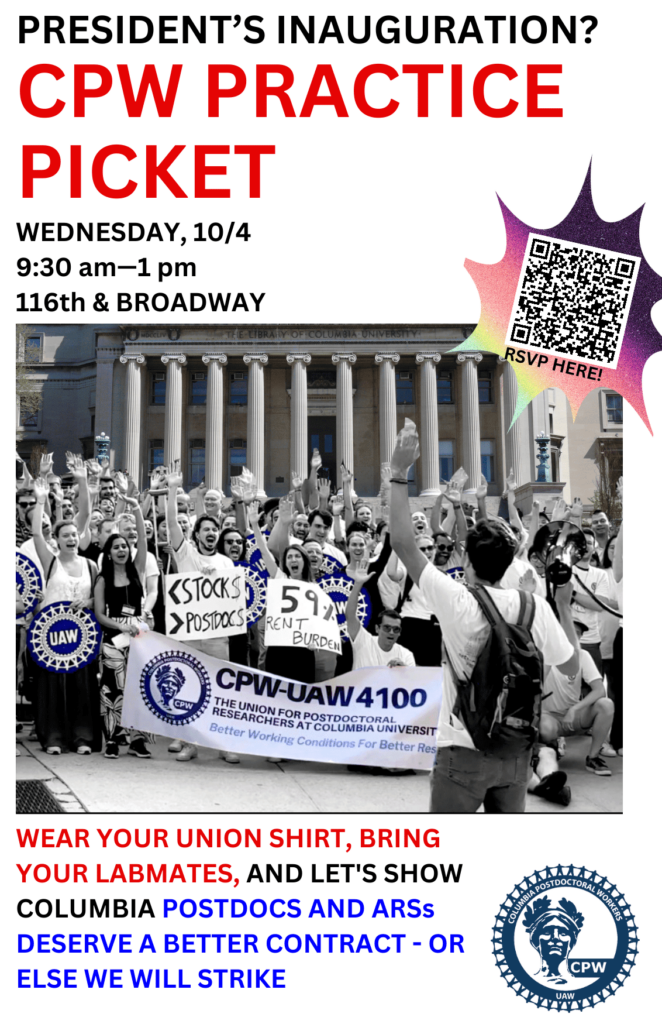 It's called a Practice Picket, because we'll be practicing what a strike would look like: leaving work, joining a picket line, and helping organize collective action for a better contract.
WEDNESDAY, 10/4
9:30am-1pm
116th & BROADWAY
WE'LL SEE YOU THERE!
Cheers,
Your Friendly Neighborhood Bargaining & Organizing Committees.
---
Want to stay informed? Check out our website and follow us on Twitter, Instagram, TikTok, Facebook, and join our and Slack​.