May 23rd, 10:30 am @ Studebaker, 4th floor, Room 469
Informal Organizing Committee notes
We arrived at 10:30 am, the Columbia Administration arrived around 10:45 pm, and we got started. 20 of us were in the room: 11 Postdocs/ARS sitting behind our Bargaining Team of 9.
Session started off with CU Bargaining Committee handing us a set of updated non-economical counter-proposals: the day 7 university proposal to our opening bargaining package. 
Here are the main additions to non-economic articles:
Unused vacation: There was a compromise  from CU's Admin! They propose that Postdocs that have worked up to 3 years will receive up to 23 days of pay in lieu of unused vacations, while everyone else will remain under the current policy.
Holidays: They propose that President's Day is removed as an official holiday and will be substituted by a personal day. They included Juneteenth as an official holiday.
Professional Development: They want the Union to educate the Postdocs/ARSs on professional development and the IDP (Individual development plans)! And they will convene a committee…But obviously, this will become more work that we need to do (instead of them or HRs)
Power based Harassment: No protections in the contract against bullying and power based harassment. They just included a link to the recommendation we helped draft in the past.
After many delays, CU Admin presented their opening compensation proposal. To read their offer follow the link. 
Here are the main points:
They are proposing a 5 year-long agreement. That is a very long period of time. During this period, economic conditions can globally change and the terms of the contract might worsen for the workers . Additionally, new Postdocs/ARSs should have the opportunity to represent their needs at the bargaining table, and bargain a new contract with updated terms.
Compensation: 

They proposed new minimum salaries: $62,400 up from $60,000 for starting Postdocs, and $68,744 up from $66,000 for starting ARSs. In the US, inflation has been running on an average of 4% for the last 3 years of our current contract, that would be a cumulative increase of ~12%. Just inflation should bring the minimum for Postdoc to $68k.
We have experienced some of the highest periods of inflation, this is effectively a pay cut! 
Minimum annual salary increases will remain at 2.5% for a proposed contract of 5 years.
The overwhelming majority of us will see NO financial benefit from this proposal! 
It is less than what similar Universities are currently offering in their contracts. It doesn't consider the expenses of housing, rising living costs, and the huge value our research work brings to this University.
There are no experience based increases or recognitions.

Relocation Costs: They offered relocation reimbursement up to $1,250 for all new hires in 2024. This is something we had asked for! However, the money would come from PI's grant, and is subject to taxes and other conditions.
Healthcare and Hardship Fund: They offered a fund that will be managed exclusively by the OPA of a total of $150,000 for over 5 years for all the postdocs/ARSs that will be at Columbia during that time. This really results in pennies for every worker! The total number of Postdocs/ARS is higher than 1600, and over 5 years there will be way more new Postdocs starting their work at Columbia! That fund would basically benefit less than 0.9% of total membership during that period.
11:05 am: We called a caucus in order to discuss how to respond to these proposals.
Consensus between members in the room and on zoom is that the offer is insultingly offensive (we couldn't agree if insulting or offensive was the best word to describe it).
Many of us do not believe that Union members would ever want to ratify this agreement.
There is no sight of any childcare, housing, health benefits in CU Admin's proposal.
No Inflation/COLA adjustments for the annual increases (they propose a 2.5% minimum which is lower even than the 3% that they give other employees).
They claim that they base these numbers on the markets. Which markets? Every other Institution is raising postdoc minimums to above $67, even Universities that are located in cheaper locations. Moreover, they are only taking into account the market of Postdocs and ARSs in Academia, definitely not considering the real market of Post-Graduate jobs.
We want them to use money to cover for many economical demands from central Columbia accounts, not research grants (PIs'!!). And we demand that they come up with a mechanism to do that (Harvard, MIT and Princeton are already moving toward this direction!!!).
We made a detailed plan for all the points to bring up when CU Admin returns to the room, which is to give our first reaction to CU Admin about their counter-offer, then present some counter arguments and ask clarifying questions.
After a short lunch break for pizza…
1:50pm: We are back in session!
We started stating clearly that the compensation offer is too low, it is unacceptable and disappointing.
At the heart of this negotiation lies the issue that CU Admin is putting no institutional money on the table to supplement the money that comes from grants.
CU Admin response:

To the need for central money to support research: the University will not change its financial model. This is the model at Columbia, where the PI has to pay for most of the expenses about workers. If this is the foundation of this negotiation, we will not be able to move on.
Columbia is not going to get any good faculty, if they pay Postdocs/ARSs more! …as if other Institutions that pay their Postdocs more don't have good faculty? (note of the editor).
On the other financial demands, CU Admin position: they are not going to include anything for housing nor talking about it. Childcare will be whatever the University provides to every officer, and will be decided outside negotiations (they said it's something it's been discussed now, but most likely will not be wrapped up anytime soon)..
They say: It is a market driven model. These are minimums, if we can't find Postdocs, PIs will have to pay them more. They presented the 2.5% annual as a merit pool. Workers can get salary raises based on performances and PIs' evaluation…We all know that is not true, the average salary of Postdocs/ARSs is very much close to the minimum salary.
About the market: They think that their offer is positioned right in the middle of what the current market offers. They are mentioning NYU, Rockefeller, Mount Sinai…Universities where Postdocs are upset, and guess what? Postdocs/ARSs are now unionizing and bargaining for a better contract, and better compensation?

We made the point again on how Academia will look like with their proposal. Only people with privilege will be able to be a scientist or a scholar! Especially in NYC! How will a Postdoc/ARSs be able to sustain having a family? Or afford to live in this city?
Their response: CU Admin has gone out of our way to provide good benefits to us.
We asked for a clarification from CU Admin: the hardship fund is not coming out of grant money (150k for all postdocs for all 5 years). Relocation costs will come from the PIs grants.
CU Admin is asking: Can we all work with this framework, and some adjustments, to find an agreement?
3:10pm: We decided to end this session. They want a counter proposal to theirs, which they believe is very reasonable. We asked some questions to clarify how absurd their counter-proposal is, and we are trying to schedule the next session.
Next bargaining session is scheduled for Wednesday May 31st 10am.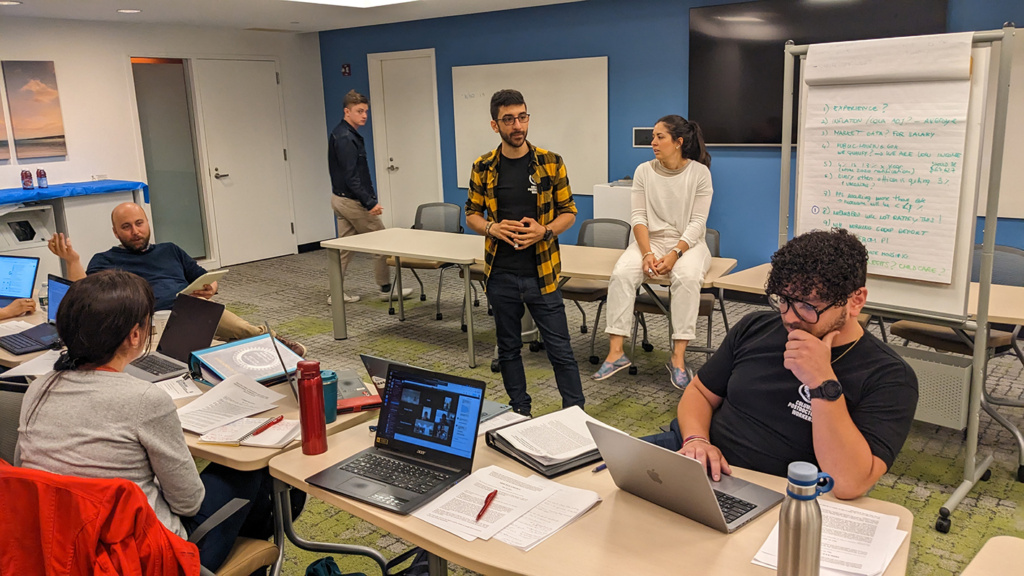 ---
DO YOU WANT TO KNOW MORE?
Read the minutes from the other sessions!
Follow our next emails with updates on future steps and debriefing sessions!!
Reach out to us to get involved!
Follow us on social media! Twitter, Instagram, TikTok, Facebook, and join our and Slack​.
Share this info with your friends and colleagues!