This past Friday, May 19th, we had our sixth bargaining session for our Contract with Columbia University's Administration!!💥💥💥
We will debrief this session and the upcoming two during our next membership meeting, in person and on Zoom, on Thursday May 25, at 6:30 pm.
Your presence matters! 
Join your fellow members at the upcoming membership meeting and let your voice be heard. Together, we can make a difference and shape a stronger future for all of us.
We will be discussing the following:
Way to exert greater pressure on Columbia's Administrations and secure the contract we rightly deserve before its expiration (June 30th!).
How to contribute to the advancement of our Contract campaign to achieve the best contract we can get.
Finance and Executive Board report to inform about how due money is utilized and to have members actively contribute to shaping our future directions.
Here's a quick recap of the May 19th bargaining session. Please join the membership meeting for debriefs of the recent bargaining sessions!
Childcare: we asked for an extra session to discuss Childcare, which was the main topic brought to the table.
Our BC started with an opening statement emphasizing the need for better childcare support. We discussed the imperative need for childcare aid for us to better support parents, and especially women in science, at a delicate stage in our career when there are already pressures that often push women out of Academia. The response from CU Admin is their usual: CU is already doing well on this, and they prefer to define benefits (unilaterally) on a broader level, including all employees, despite our workers being part of the lowest paid class of officers.
Once again we demanded their economic proposal. We – again – underlined that we want to start the discussion around economical proposals ASAP. We are hoping for this to be presented at the next session on 5/23.
What's next?
Our next bargaining session is Tuesday, May 23rd, (10:30 am at Studebaker), when we expect CU Admin to bring their economic proposals to the negotiation table! It is time to start talking about money!
Join the sessions! Witness the negotiation as it unfolds!
Help spread the word to your co-workers!
RSVP for the recap + discussion at the membership meeting!
And join our slack for live updates and commentary during the bargaining sessions.
Last but not least, BIG CONGRATULATIONS to all Columbia graduating students! Seeing you on campus on the Commencement day was 🤩🤩 Wishing you all the best and all the success you deserve in any path you will choose!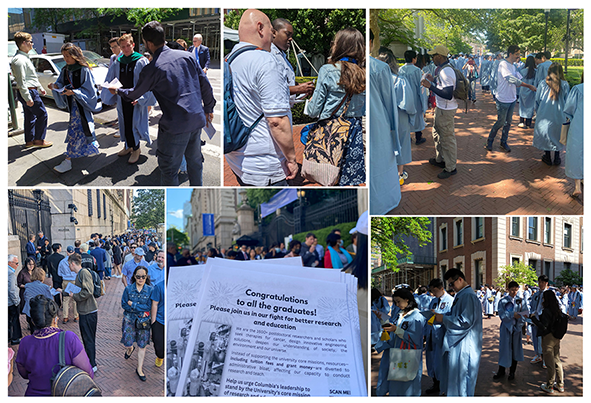 ---
RSVP to Join the Next Bargaining Sessions
Follow our next emails with updates on future steps!
Read the full report from the 6th bargaining session!
Reach out to us to get involved!
Follow us on social media! (IG, Twitter, Slack)
Share this info with your friends and colleagues!
CHECK THE BARGAINING ARTICLE TRACKER
Cheers!
Your Friendly Neighborhood Bargaining and Organizing Committees.
---
Want to stay informed? Check out our website and follow us on Twitter, Instagram, TikTok, Facebook, and join our and Slack​.