TUSGA graduate students are one strike since XX for a Living Wage of $32,800, Healthcare for Dependents and Families, Longer Parental and Bereavement Leave and Better Working conditions overall (read more). Last week, Temple University announced that it is withholding tuition remission and healthcare benefits for grad workers on strike. Based on the average tuition remission for grad students at Temple (a fabricated "fee"), this means workers who already make below cost of living could owe their employer upwards of $20,000 for withholding labor.
If Temple manages to extract $20,000 from employees simply because they stand up for their rights, schools like Columbia can do the same. We can't let that happen.
[[SIGN ON TO PROTECT WORKPLACE RIGHTS AT TEMPLE AND COLUMBIA]]
To protect our own workplace rights and demonstrate solidarity with the grad workers at Temple, we are asking every member of the Columbia community to take action by signing this letter in support of the Temple grad workers and turning out to one of our cross-union solidarity events.
💫🍻🍔 Solidarity events on Wednesday 2/15: 🍔🍻💫
Join a campus rally at 2:30pm, which is being co-organized by SWC, postdocs, and support staff. That's Wednesday 2/15 at 2:30, meeting by the Sundial for Morningside Campus or at the steps of the Hammer Building for CUIMC.

Come to our VERY EXCITING cross campus fundraiser happy hour at Slattery's Pub with NYU and CUNY to support the Temple grad union! Members from SWC, CPW (the Columbia postdocs union), NYU-GSOC, and CUNY-PSC will all be there from 7:30pm+. Share a pint while organizers circulate a link for attendees to donate $5-$20 to the Temple grads workers' strike fund. More location info and RSVP at the bottom of this link.
We've already seen how wins on one campus helps set contract standards across the sector but it also works in reverse: unprecedented restrictions to legally protected activity at Temple will mangle the rights of workers at Columbia.
How can I help?
Participate in the rally on Wednesday 2/15 at 2:30pm. We are asking this of all students, teachers, and researchers across campus. RSVP here >>
Join our cross-campus fundraiser happy hour Wednesday 2/15 at 7:30pm at Slattery's Pub, RSVP at the bottom of this link >>
Regardless of whether you are working on Wednesday, please add your name to this sign-on letter condemning Temple University's administration for withholding health benefits and tuition remission from striking workers.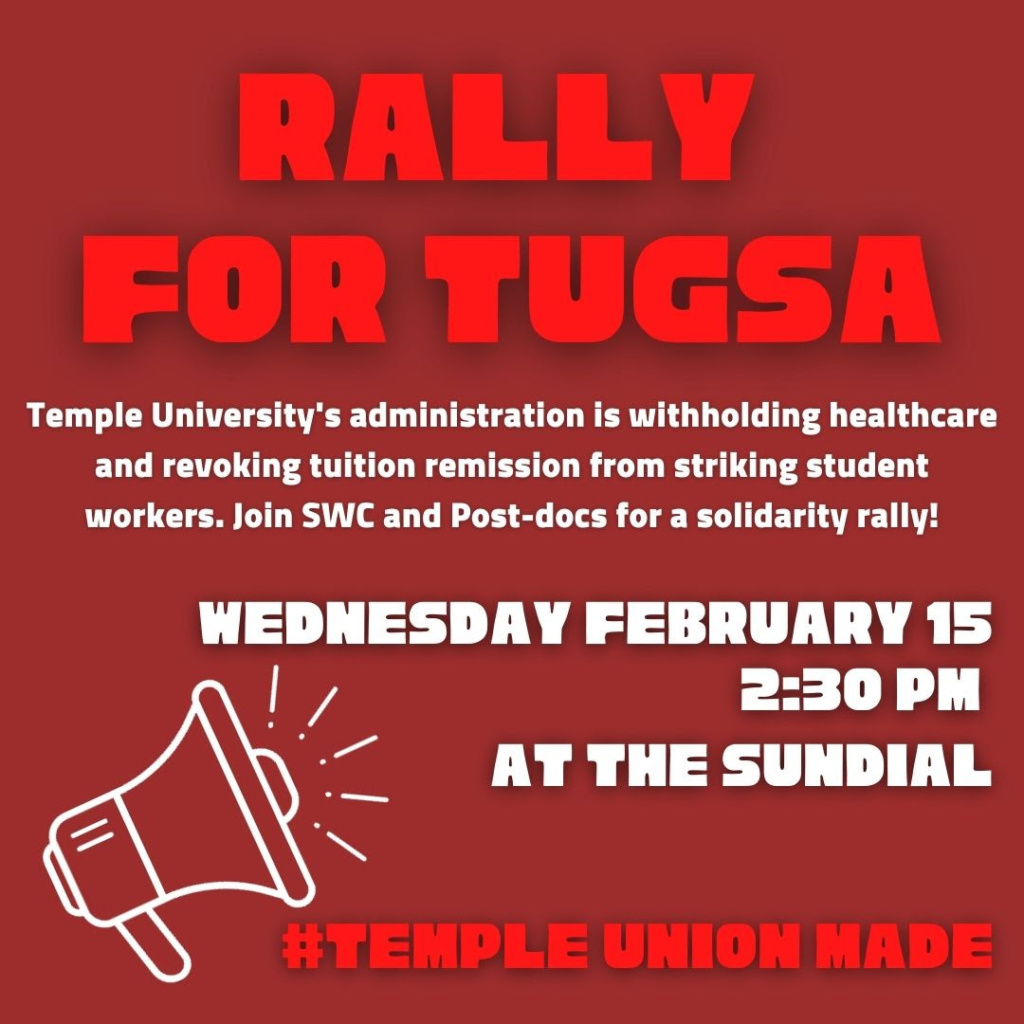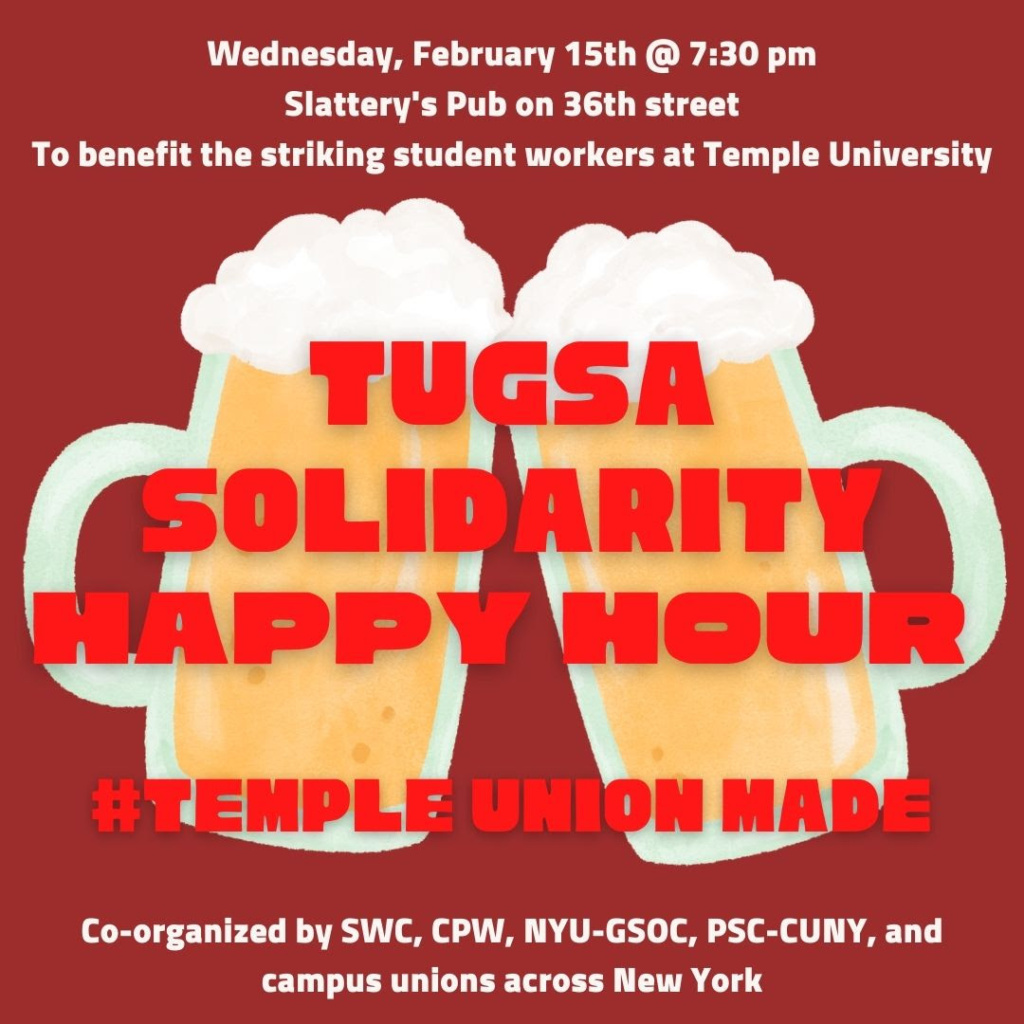 P.S. Can't make it to the fundraiser but want to donate? Support the Temple grad union here: https://tugsa.betterworld.org/campaigns/tugsa-strike-fund
---
Want to stay informed? Check out our website and follow us on Twitter, Instagram and Facebook.