This Monday, May 15th, we had our fifth bargaining session for our Contract with Columbia University's Administration!!💥💥💥
We will debrief this session and the upcoming two during our next membership meeting, in person and on Zoom, on Thursday May 25, at 6:30 pm.
On Monday, the CU Admin rejected our non-economic proposals and gave us their offer that they called "Day 5 University proposal" – which still covers only non-economic topics!
As of now, we have been bargaining for almost a month,  and yet, we are still dwelling exclusively on non-economic issues!
At the same time, Postdocs at Mt. Sinai held  their second rally to demand their Admin to stop stalling negotiations. They were joined by Mt. Sinai Graduate Students who recently got organized into a union. Our members were also in attendance to show support!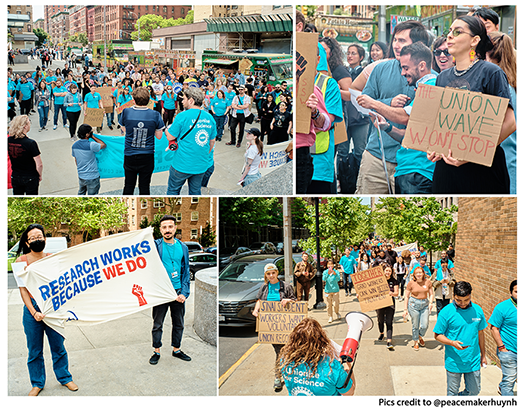 Here's a quick recap of the May 15th bargaining session. Please join the debriefing or open the link to the notes to know the details!!! So much more happened.
12:00 pm, Gathering!
At Hammer, CPW set up tables with  t-shirts, pins and flyers. We engaged with Postdocs/ARSs, other employees and passers-by who were curious about our demands and did not hesitate to show us support! What a delight!

1:30 pm, Start of bargaining! 
As usual, the CU Admin team was late (20 min this time).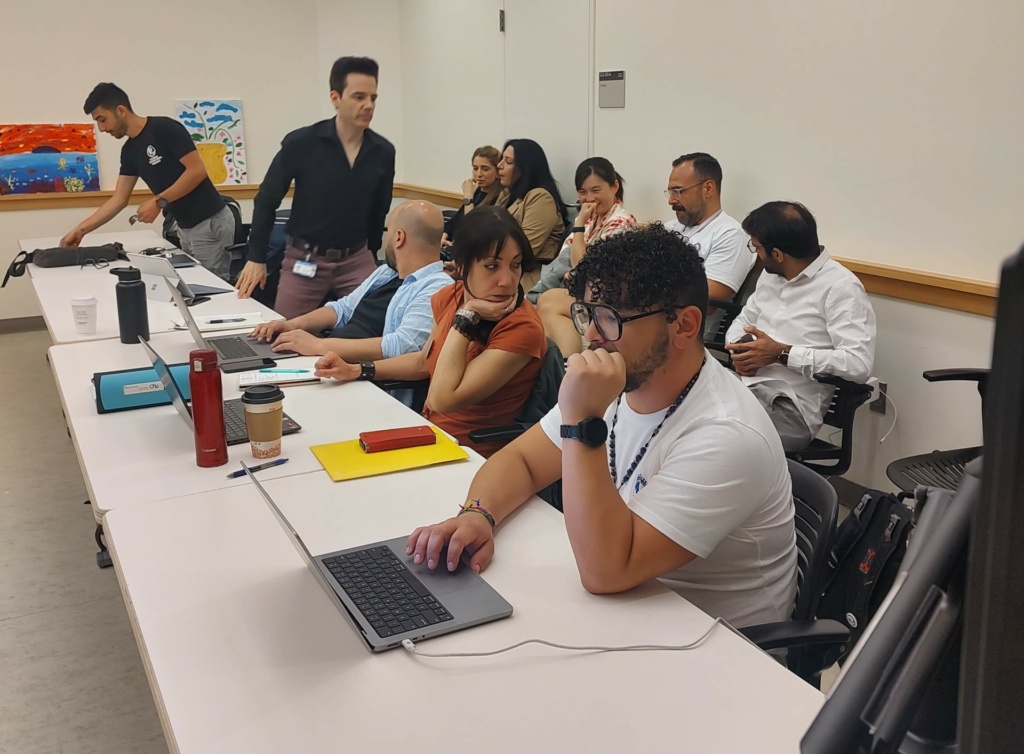 The following articles were discussed:
Admin proposal on Appointments: CU admin rejected all our proposed changes, including on Fellows – make them full employees – a fine if HR delays our appointments/reappointments. All they offered are a few extra items in the appointment letter. We pointed out again the NIH guidelines on Fellows –  shared with them already in our 3rd Session. They think that the guidelines "leave latitude to the institutions to determine how researchers on Fellowships are appointed"  followed by "according to their analysis" Fellows are not actually worse off than fully employed researchers.
Admin proposal on Discharge and discipline: CU admin rejected all our language aiming to ensure clear timelines before a postdoc/ARSs is laid off.  
Admin proposal on Grievance and arbitration: CU admin wants to lengthen the grievance process from 10 calendar days to 15 working days, but not for the union! As raised by an ARS during the caucus, this would be a big issue for any researcher on Visa that wants to complain about a fair termination and will be forced to leave the country in 30 days.
Admin proposal on International employees: They did not respond to our proposal on the International Employees Assistance Fund (ofc – economic!) but they suggested improvements to fix issues on Visas, to create a committee.
Admin proposal on Professional development:  They rejected all our proposals: following standard public guidelines for authorship, ensuring the rights of postdocs/ARSs to have a panel of co-mentors, and implementing a transparent  mechanism to resolve authorship disputes. All they offered was a "committee with the Union to enhance and encourage professional development."
Admin proposal on Union Dues: They proposed  a new Section (12) with similar  language  we proposed. We want the union to be notified before Postdocs/ARSs are removed from the union.
Admin proposal on Vacation: Instead of  removing our right to be paid for any unused vacation upon termination, they offer to pay up to a maximum of 12 days. 
Caucusing:
During the session, we took one break to discuss what to  ask CU Admin  on their proposals. Postdocs/ARSs joined in person and zoom!! Thank you – great insights and suggestions always come from this joined effort!!!
What's next?
We asked for one extra session this coming Friday to present our proposal on childcare. Join to show support for parents rights!!!At the session of May 23rd, we expect CU Admin to come to the negotiation table with an economic proposal.
Next bargaining session is on Friday, May 19th, 10:00 am at the Studebaker Room ?, Manhattanville.
Join the sessions! Witness the negotiation as it unfolds! Help spread the word to your co-workers!
RSVP for the recap + discussion at the membership meeting!
And join our slack for live updates and commentary during the bargaining sessions.
---
RSVP to Join the Next Bargaining Sessions
Follow our next emails with updates on future steps!
Read the full report from the 4th bargaining session!
Reach out to us to get involved!
Follow us on social media! (IG, Twitter, Slack)
Share this info with your friends and colleagues!
CHECK THE BARGAINING ARTICLE TRACKER
Cheers!
Your Friendly Neighborhood Bargaining and Organizing Committees.
---
Want to stay informed? Check out our website and follow us on Twitter, Instagram, TikTok, Facebook, and join our and Slack​.