May 11th, 10 am @ Hammer LL2-207
We arrived at 10am, the Columbia administration arrived around 10:25 am, and we got started.
25 of us were in the room right now fighting for a better contract. There are 15 postdocs in the room standing behind our Bargaining Team of 10.
First item on the agenda: the duration of our contract

CU Admin wants a longer agreement, we have proposed 3 years. We answered that Postdoc/ARS stay in the university for short times, high turnover, and therefore shorter agreements might be more in line with the interests of our unit. Especially with high inflation it might make sense to update the contract often, dependent on what we get for cost of living in our compensation package

Next item: the list of arbitrators that CU Admin suggested

CU Admin wants us to go with their list of arbitrators. These arbitrators will resolve the grievances that postodocs/ARS will have when we are wronged by the CU Admin. These positions are important. We offered to come back to them next week. Admin says that they want us to accept one of theirs if we propose one of ours. We have proposed an idependent way to choose abitrators a few months ago through the American Association of Arbitrators, but they rejected really hard during Union-Managment meetings. We will get back.

Next item on the agenda: the article on Union Access and Rights

We are asking for accurate information (lists) from the University. This is crucial for us to be able to find new postdocs and update them on the union, to monitor issues with pay and appointments, to enforce the contract regarding salary and other issues. We also want our staff to have access to University buildings so that they can contact workers. The Administration has been refusing to give our staff IDs, that prevents us from talking to postdocs and ARSs on a daily basis!
Additionally , the university refuses to give us data on gender, race, visa status etc. That prevents us from knowing if postdocs in differrent categories are treated unfairly!
CU Admin argues that giving access to buildings for our staff is an issue of confidentiality and security of their buildings. Right now two of our staff have not been given IDs, it has been 1 year since we asked for them.
Very long (and mildly surreal) discussion ensues about our staff having contractor IDs for access, and members of e-Board and Stewards having access to all University buildings. They insist that security that doesn't allow them to give access. We reply that there could be a list of pre-approved people for access in buildings that will be reviewed every few months.
CU Admin objects to having mandatory orientations for every new postdoc by the Union. They say that if we make it mandatory there will be repercussions for the postdocs, but it turns out that at the end they are concerned about repercussions to the University if we complain that orientations don't happen.
CU Admin is very happy with our advocacy on all issues, they are having a really nice discussion with us. If so, PUT IT IN THE CONTRACT!!!

Next item: Article on Recognition.

We ask that all postdocs who have "received a doctorate or its professional equivalent who provide services to the university" are hired as Postdocs or ARS and are in our Unit. And that they are given a full set of benefits (Fellows included!).
There are Fulbright Postdoc Fellows that get paid $45,000 a year!
We are explaining the power imbalance between incoming postdocs, and the University. How if we allow the University to categorize postdocs as Visiting Scholars they will create incentives for the Administration to pay all of us less.
The question is how postdocs that receive salary directly from external agencies will be treated. Should the source of funding define if a postdoc affords to pay the rent? Living on $45,000 in NYC!
CU Admin insists that a lot of our issues do not belong in this contract.
We replied: We are tired of CU Admin telling us that all of our issues do not belong in the Collective Bargaining Agreement (our contract)! What does and does not belong in a contract gets negotiated on this table and we have as much say as CU Administration does! (edited)
We are asking for clarification from the Administration regarding who gets classified as Visiting Scholars. Why do people with fellowships end up sometimes being classified as Visiting Scholars and don't get paid the minimum. CU Admin responds: It is workers that perform their own independent research, that will not benefit a Columbia Lab. We asked for written official definitions of the titles.

CU Admin asked for a break. We are going to do a caucus now! During the session, we took breaks to discuss our strategy.

The importance of non verbal communication on the bargaining table. CU admin are coming in late, talking in circles, leaving cell phones on, etc. That is not a professional nor respectful way to present as a team.
Next strategy: we need to counter their stalling strategy. Let's get as much visibility as possible and show them how much we care about moving forward with negotiation for a better contract!
COME TO THE DEBRIEF SESSION and tell us what you think! Any suggestion, impression, or help is very much appreciated.

Next item on the agenda: Job Postings (this is about Diversity and Inclusion)

We want to promote diversity in the postdoc/ARS workforce as much as possible. In order to do that, the University needs to track applications and final hiring so that we can monitor bottlenecks in diversity and inclusion.
Columbia Admin says though they support diversity, that the are limited because diversity is only measured for citizens and green card holders only! And that limits them. It is hard to measure diversity with international populations, apparently… Again, they say you wouldn't see in a contract the obligation to track diversity. That is how much they care and support diversity words but no actions! (edited)
They say "We are hugely progressive organization". They are okay with sharing information to regulators, not with us, they follow the federal categories and that's that.
We say: Diversity should be part of the contract, any issue that affect our working conditions should be part of the contract. It is not only about workers not being fired without just cause, or receiving more than minimum compensation. Diversity is a matter of feeling safe and included at work. It affects if and how well underrepresented postdocs/ARSs can perform their research.
They say "University is committed and is doing a good job. But it is different to set up a formal tracking mechanism"
We want to change the culture of academia so that it is more inclusive and diverse. But in order to do that we need to have data so that we know what is happening, we need to track. Something that we can also scale up to other Universities too.. CU Admin says: we need to just talk, we can't do more than that!
Columbia Admin: Imagine that you put this clause in the contract. And imagine that we track the data about diversity in the process of hiring postdocs. And then you find out that the process is biased and that hiring is not as diverse as it should be. Then what would you do, file a grievance?
They say: Columbia is part of the system, and as part of the system it could do better. But we are not doing that in a contract

Next topic: Workspace and Materials

We ask for inclusivity and accessibility in our workplace "gender neutral bathrooms, and accommodations to ensure accessibility including but not limited to ramps, elevators and at least one automatic door per building, and adjustable desks as required by employees"
Columbia Admin: Again refuse to put that in the contract. They can give us data about some of these things. But they can obviously NOT include that in a contract. They cannot guarantee an accessible workplace!
We also want: if a postdoc/ARS arranges remote work with the PI, that the University does not deny the request for remote work.
Columbia Admin: it is complicated. Is it remote work from Queens? Is it remote work from Montana? Is this one day remote? Is it three days a week remote? It it completely remote? These are real issues with the university as a whole. [sorry, but this is the level of argument here, it doesn't make sense to me neither, I think he means to say: We are just not doing this]
We are asking to be treated like adults Example: There is a Columbia postdoc that lived in California, her experiments were in Stanford. The University Administration denied her permission to work remotely! CU Admin says: they would never want this to be grievable, they don't want the union to be able to complain and resolve this issue for the postdoc. It is not on the PI to decide this, the University wants to control whether a PI allows their postdoc to work remotely. (edited)

Next item: Union Dues

We want to maintain a robust union, implementing mechanisms that ensure that new hires receive proper notice to their union rights, and are informed that they need to either to become members of the union, or to pay a fair share fee. And that Union fees are properly deducted, that the University does not randomly decide who the deduct dues from, that they are consistent and follow the rules.
There have been a lot of issues with this. We have invested a lot of resources (and written some code) to track their "mistakes". They have been arbitrarily removing members from dues lists when they become fellows from postdoc, or from postdoc to fellow. And they owe us thousands of dollars from the last three years, that they refuse to acknowledge.
Columbia Admin: They also have a proposal on union dues, they want to make our union weaker by making it optional to pay a fair share fee, while we as members will still have to represent every worker and fight for everyone like we are doing today! We want to understand the logic (so will ask some questions after the break).

CU Admin says: we are not sure if we will have a compensation proposal on Monday!!! We are pushing that it is very important for us to see what they have to offer because they are stalling all economic proposals. They are saying that they understand and they will do their best to give us something soon….
They are not committing to anything. They understand our concerns and time pressures, and they hope to put a compensation proposal on the table soon. How magnanimous that they are not commiting to a timeline but they understand us so well…
End of bargaining session #4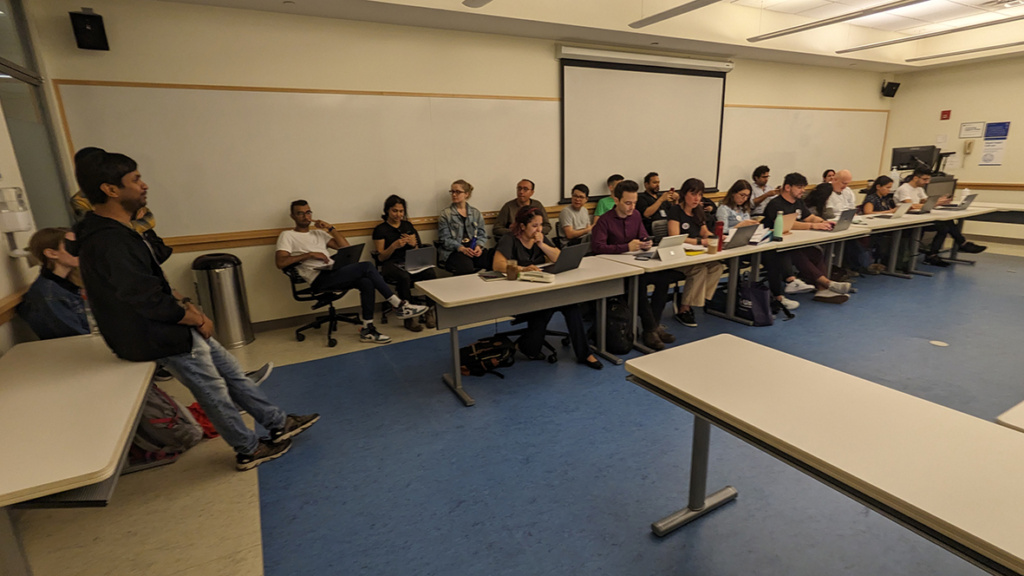 ---
DO YOU WANT TO KNOW MORE?
Read the minutes from the other sessions!
Follow our next emails with updates on future steps and debriefing sessions!!
Reach out to us to get involved!
Follow us on social media! Twitter, Instagram, TikTok, Facebook, and join our and Slack​.
Share this info with your friends and colleagues!