Yesterday, May 11th, we had our fourth bargaining session for our Contract with Columbia University's Administration!!💥💥💥
We will have a debrief session tomorrow on Zoom on Friday May 12th, 12:30pm. We will discuss both the 3rd (May 9th) and the 4th (May 11th) negotiation sessions.
But OMG – so many things happened today!
With today's session, we discussed the remaining non economic articles. CU Admin has been reluctant to discuss compensation. Now they have to engage with our economic demands!
While bargaining was happening, union members had the chance to present their amazing scientific work at the postdoctoral research symposium – and showed their support for the ongoing bargaining! The symposium was a chance to catch up on the latest research news and simultaneously, exchange ideas on bargaining. 40 out of 57 posters displaying flyers in support of our Union. THANK YOU to everyone who is showing us their solidarity, appreciation, and gratitude to what the CPW is doing. It's been very fulfilling. We couldn't make it without your support. 🤓✊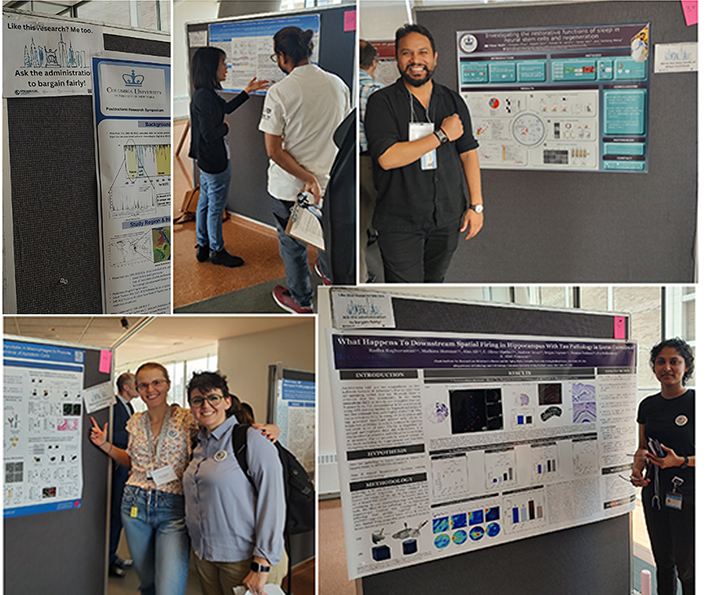 Also, at 10 am we and the American Association of University Professors delivered a petition to reimburse the retirement contributions that were frozen in 2021 due to pandemic-related financial decisions. 800+ signatures were delivered to the Provost's office! There was no financial hardship for CU Admin during the pandemic >> see the financial report for Columbia University! 🔥🔥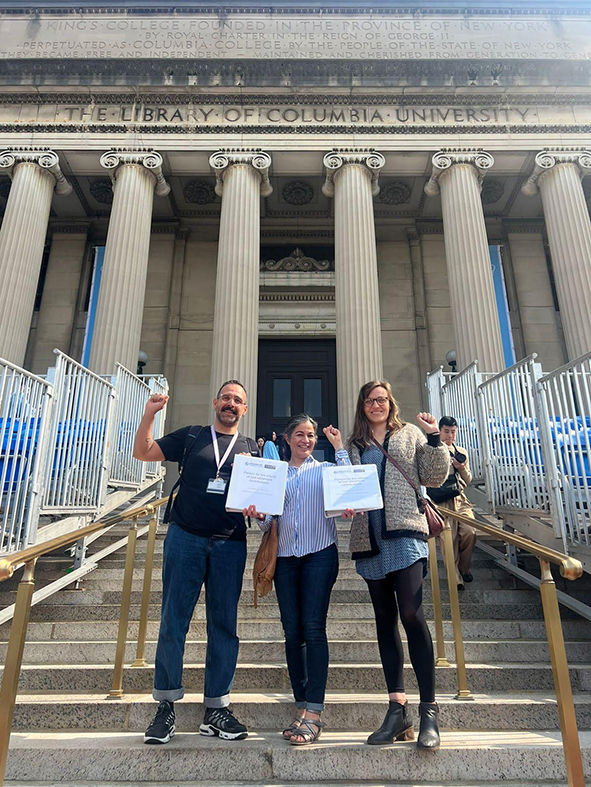 Here's a brief recap of the May 11th bargaining session. Come to the debrief tomorrow to hear more!!
9:30 am, Gathering!
We met in front of Hammer, CPW set up tables and Postdocs/ARSs came to socialize, and get t-shirts, pins and flyers (as always!! This has been fun, come and check it out!).
10 am, Start of bargaining!
As usual the CU administration team joined late (25 min this time).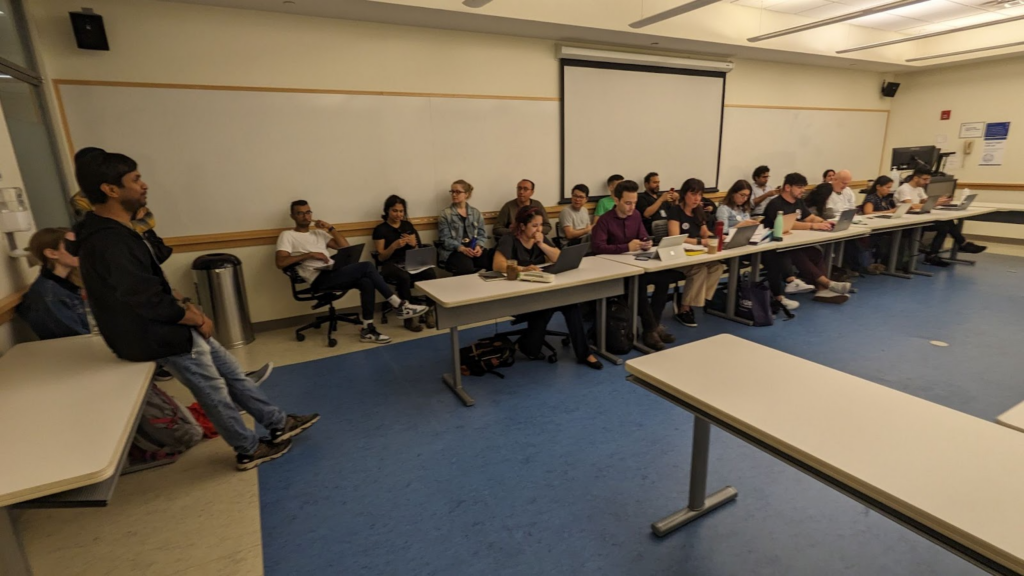 During this session, the following articles were discussed:

CU admin wants it to last 3-5 years. We want a shorter contract (2 years) to ensure that new Postdocs/ARSs that join CU can negotiate terms more frequently, so that they can fight for their rights during volatile economic times with unforgiving inflation.
In case that a grievance does not get resolved between a worker and the University, an outside Arbitrator needs to be involved. CU Admin suggested names for 3 Arbitrators of their liking. We are skeptical of accepting all of them all.
Our Union's Staff Organizers must have access to CU buildings so that they can communicate to members. CU Admin strongly opposes this, citing security issues (excuses? Editor's note). We would abide by their safety protocols and have staff organizers ID's screened and pre-approved…
We believe that Postdocs that are paid directly from a granting agency (as opposed to Columbia's payroll) deserve the same protections as all of us. They should be able to afford to live and do research in NYC. Instead, CU Admin claims that they are not employees.
Job Postings (this article is about Diversity and Inclusion):
We want to promote diversity in our unit and in CU as much as possible. The University should track applications (they do it already with ARSs), so that we can monitor bottlenecks in diversity and inclusion. CU Admin says that it's an impossible burden on their bureaucracy, but "We are a hugely progressive organization" – in words only (Editor's note #2)…
We demand accessible workplaces: ramps, elevators,at least one automatic door per building, and adjustable desks. They replied that they are working on it… for decades now (Editor's note #3). We also asked for gender neutral bathrooms – same answer.
We want and deserve a robust union. To maintain that, union dues need to be properly deducted in a timely manner. CU admin has not been consistent and owes the union several thousands from mistakes they have made, and they want to remove in the contract a pivotal part regarding the dues.! This is a complex issue that we need to address asap!
Caucusing:
During the session, we took breaks to discuss our strategy.

The importance of non verbal communication on the bargaining table. CU admin are coming in late, talking in circles, leaving cell phones on, etc. That is not a professional nor respectful way to present as a team.
Next strategy: we need to counter their stalling strategy. Let's get as much visibility as possible and show them how much we care about moving forward with negotiation for a better contract!
COME TO THE DEBRIEF SESSION and tell us what you think! Any suggestion, impression, or help is very much appreciated.
Our Bargaining committee have presented all our non-economic proposals and now it is in the Administration's court to respond how much are they willing to spend on supporting postdocs/ARSs. Despite us repeatedly saying that we want a compensation proposal for the next session they just replied with vagueness that we may get one on May 23rd. We may need to increase the pressure! Join us tomorrow to discuss how
Next bargaining session is on Monday, May 15th, 1pm at Hammer Room LL201, Medical Campus.
Join the sessions! Witness the negotiation as it unfolds! Join the Organizing Committee!
And join our slack for live updates and commentary during the bargaining sessions.
---
RSVP to Join the Next Bargaining Sessions
Follow our next emails with updates on future steps!
Read the full report from the 4th bargaining session!
Reach out to us to get involved!
Follow us on social media! (IG, Twitter, Slack)
Share this info with your friends and colleagues!
CHECK THE BARGAINING ARTICLE TRACKER
Cheers!
Your Friendly Neighborhood Bargaining and Organizing Committees.
---
Want to stay informed? Check out our website and follow us on Twitter, Instagram, TikTok, Facebook, and join our and Slack​.