On Thursday 8th, Monday 12th and Wednesday 14th, we had our ninth, tenth and eleventh bargaining sessions for our Contract with Columbia University's Administration!!💥💥💥
It has been a very intense week, and many topics were discussed on the table. However, the BC feels that there have been no movements on salary increases and a lack of engagement in compensation and many other articles discussed.
Over the next two weeks we need to go through the details on where we stand and, most importantly, what we want to do next. Please, attend one (or several) of the following dates to hear you:
👕 RSVP >> Join us Wed (CUMC) and Friday (Morningside) for Lunch (~12:30pm) – We will have your union in campus with pins and T-shirts to show support for a strong contract!
RSVP >> Next Bargaining Session on Thursday June 22nd starting at 10:30 AM (join whenever you can) on Hammer building Room LL 210 – Join us in person or on Zoom in the caucus to discuss next steps.
🗣️ RSVP >> Next membership meeting on Thursday June 29th in person and zoom – one day before contract expiration!
Our contract expires on June 30th, now it's the time for us to rally and push for our demands!
Quick recap: 🏃💨 🏃⏱️
>> Read the detailed recap after

After CU Admin presented their counter offer on the economic and non-economic proposals, we presented ours. There is a significant disagreement on key issues. Most importantly, there is a disagreement on the framework of our next contract. CU Admin refuses to have conversation on language in the contract about crucial issues for us, including Housing, Childcare, Fellows, Recognition, Bullying and fair recognition of authorship and IP… We firmly believe that these topics are rightfully part of our working conditions, and we firmly believe that they need to be addressed in our next contract!

Columbia is still proposing new minimums that will effectively be a pay cut. Our current minimum for postdocs: $60k adjusted by inflation will be around $70k; Columbia's current proposal: $63k and $69k (for postdocs and ARSs respectively).

We are closer to an agreement on Vacations, some provisions for International Employees, Union Dues, Grievance and Arbitration.
Only if we are united will we have the CU Admin move towards our direction. We need to escalate our actions, and make our majority support visible to CU Admin.
Detailed recap: 🐢📖🤓🐢
>> Here's a more detailed recap of the sessions, divided by contract articles:
A1 and A2, Recognition and Appointments:

We're fighting to make Fellows full employees. Zero movements nor concessions from CU Admin on this topic, even after we introduced new evidence from Mt Sinai. They did not provide the RFI we asked. This is a battle we must win! Fellows are very much penalized under the current contract.
We're still battling on locking the definition of titles as defined in the contract and NOT in the Handbook and on having information on the Union added to our appointment letter. CU is strongly opposed, only proposing to add a link on Union information.
A3 and A4, Benefits and Childcare:

We removed our initial proposal of full covered premiums, saving $$$ from CU expenses.
We are insisting on a housing supplement for EVERYONE of 7,500$ per year. CU Admin repeatedly rejected it, constantly reiterating that their proposed contract framework (which does NOT include Housing, among many other articles and topics we want to discuss) is complete and one of the best contracts ever made.
Hardship fund: only concession partially accepted by CU Admin. We are not happy with the little amount they offered (250k – covering only around 50 medical emergencies in 5 years) and will battle for more.
Childcare: initially brought on the table by us at the very beginning of negotiations, NEVER addressed by CU Admin. They said that they're having "conversations about how to improve Child Care" but will not be included in our next contract.


A5, Compensation:

CU Admin revised their first offer on June 8th: minimum for Postdocs 63k/year, with 3% raise in 2023 and 2.5% for 2nd and 3rd years of the agreement, 2.75% for 4th and 5th.
We revised our offer on June 14th: minimum for Postdocs 82k/year, with 3.5% raise by experience and 3.5% raise for COLA (cost-of-living adjustment) and a lump sum if Inflation over 3.5%.
The battle on compensation will – possibly – be the biggest one we will fight!! Not only on $$, but also on the introduction of experience and COLA in the contract.
A6 and A19, Authorship, Copyright and IP:

CU Admin KEEPS DENYING improving our contract on these topics, insisting with the fact that "These are not mandatory subjects for working conditions, but purely Academic".
We are insisting on the fact that Publications and Patents are part of our working condition, because they will be huge determinants of our future careers.


A7, A9, A13 and A28, Discharge and Discipline, Grievance and Arbitration, Job posting, and Workspace and Materials:

On June 8th, We demanded CU Admin to add in the contract language that they must provide information and justifications before discharge (firing a postdoc/ARS). On June 24th, they only offered a meeting without details in cases that do not involve misconduct. THIS IS NOT ENOUGH!
We have pending agreement on the last Arbitrator.
CU strongly rejected any inclusion in the contract on demographic discussions and on movements towards bathroom equity. They – again – told us they do not believe the contract is the right place for these demands and pushed for the creation of Working Groups, that will most likely fall on our shoulders!!!
A12, International Employees

We have a Tentative Agreement on notification to the Union.
We need to push more to win the International Fund, that will economically help us in case of needs re: visa. CU Admin does not want to address our request.
A24 and A25, Union access, rights and activities and Union Dues:

We proposed that the University will provide a personnel pack prepared by the Union to all Employees. CU rejected the pack in favor of a url in the appointment letter. THIS IS NOT ENOUGH! We need to promote and protect our Union!
We have a Tentative Agreement on Union dues.
A26 and A29, Vacations and Effective Date and Duration:

On Vacations, we have a Tentative Agreement.
On Effective Date and Duration: CU proposed a 5-year-long contract. We strongly oppose that, and propose a 2-year-long contract that will allow us to fight for our working conditions in shorter timelines, and allow new employees to take part in this fight.
New: Abusive or Intimidating Behavior as Prohibited Conduct:

CU Admin seems to reject having the definition of bullying approved by the Provost. We want to introduce this language in the contract and not ONLY have a policy or guidelines because we want to protect our workers from one of the biggest plagues of Academia.
Pending CU revised language to make the policy grievable


New: Columbia Housing:

On June 14th, we removed the initial proposal. However, will fight for the housing stipend in A3 Benefits till we get it!
---
What's next?
Bring your thoughts and proposals on what we should do next!
Our requests for bargaining sessions at Morningside are being ignored!!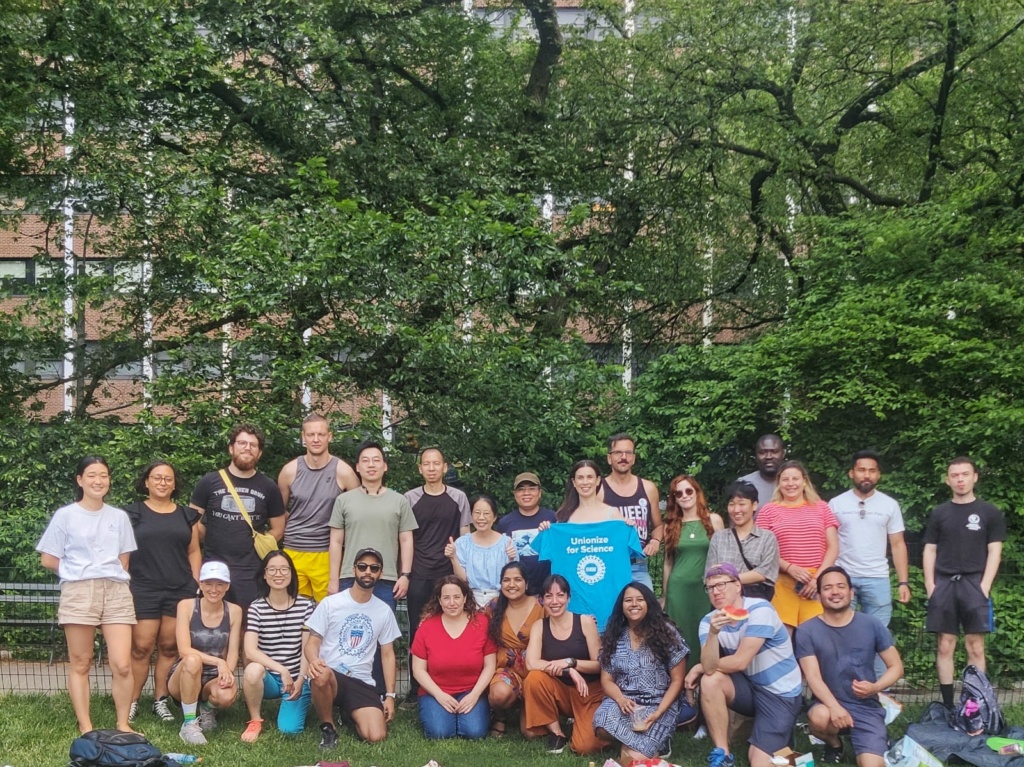 ---
Follow our next emails with updates on future steps!
Read reports from the bargaining sessions!
Reach out to get involved!
Follow us on social media! (IG, Twitter, Slack)
Share this info with your friends and colleagues!
CHECK THE BARGAINING ARTICLE TRACKER
Your Friendly Neighborhood Bargaining and Organizing Committees.
---
Want to stay informed? Check out our website and follow us on Twitter, Instagram, TikTok, Facebook,
and join our and Slack​.