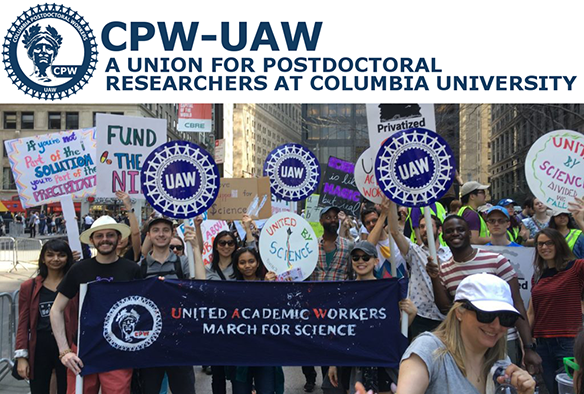 Happy Earth Day! For the past five years we have been joining forces with other locals and organizations around March for Science to demand real actions against the climate crisis, reclaim a central role for science in our society and make evidence-based decisions about the future of our planet.
We are excited to announce that tomorrow 4/23 we will be marching together with our postdoc peers at Mount Sinai, who recently reached a majority in their campaign for a unionization vote. We will meet at 11.15am at the corner of 72nd Street and Central Park West (that's Strawberry Fields, for reference). We are attaching a flier with the details and itinerary. If you have any trouble finding us, you can reach out to this email or give us a call at 347-453-8937.
Hope to see you all there!
In solidarity,
Columbia Postdoctoral Workers-UAW Local 4100 Executive Board
P.S. – To stay informed about our union, make sure to check our website columbiapostdocunion.org, and follow us on Twitter, and Facebook.