Did you hear that NYU Langone postdoc salaries are going to $70K this December? This is a clear response to their organizing efforts to form a union 🔥. The latest offer of Columbia of $63,6000 for our new minimum salaries looks even more hurtful… 
Before we won our first contract in 2020, postdocs at Columbia were amongst the lowest paid in the city. With that first contract, we became the highest minimum salary in NYC 💰.  We did it once, and we will do it again!
At our last bargaining session on Monday:
🌍 We won $1,250 to cover Visa renewals related expenses!
This is a great victory that will ensure that Internationals (the majority of us) are not penalized for their work.
⚧️ We won a mechanism for our union to increase diversity and inclusion
We won a side letter for a working group where we can bring improvements needed for more diverse hiring practices and improvement in access to gender neutral bathrooms.
Our next bargaining session is August 31 and there are only 5 articles left to agree which include the following topics:
💸 Compensation:
New minimum salaries
New yearly raises – we are asking for an across the board 3% with an automatic lump sum if inflation is over 3%
Experience-based raises
🧑‍🍼Childcare:
Benefits per kid and not per family (in our contract so that Columbia can't change it without negotiating with us)
🏡 Housing:
A stipend to supplement us from being the only postdocs/ARSs in the city who don't receive subsidized guarantee housing
🟰 Equality for Postdoc Fellows
such that they are not penalized with an independent contractor status
⏲️ Length of the contract –
Columbia's Admin wants 5 years while trying to lock us into a really precarious contract.
We need improvements in all of these issues!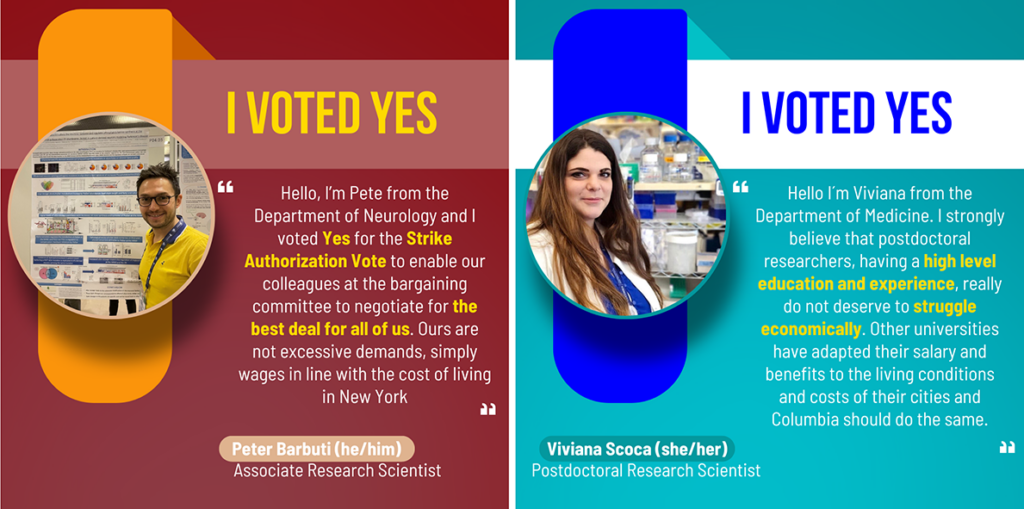 Sincerely,
Your Friendly Neighborhood Bargaining & Organizing Committees.
---
RSVP to Join the Next Bargaining Sessions
Follow our next emails with updates on future steps!
Read the full report from previous bargaining sessions!
Reach out to us to get involved!
Follow us on social media! (IG, Twitter, Slack)
Share this info with your friends and colleagues!
CHECK THE BARGAINING ARTICLE TRACKER
---
Want to stay informed? Check out our website and follow us on Twitter, Instagram, TikTok, Facebook,
and join our and Slack​.