Last Thursday we officially kicked off our Contract Renewal Campaign!!
As discussed, now is the time to develop our initial bargaining goals. Your active participation and inputs are of great support to the Bargaining Committee and the campaign for our contract renewal.
What we win on the Bargaining Table depends on the power we can build out of the Bargaining Table.
We will design a bargaining survey for union members to fill in and determine which issues need improvement in our next contract. To help us design it, we performed an initial survey at our kickoff meeting, and here are the most important topics raised: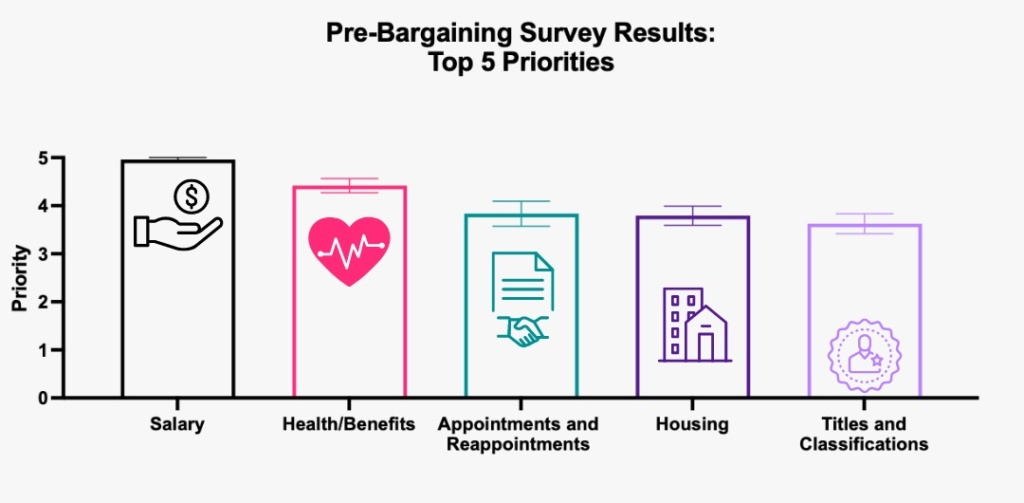 Our next step is to create the Contract Action Teams. These working teams will help build a strong case to reach our Contract goals through research and members engagement. They will be in direct relation with the Bargaining Committee and lead the contract campaign, and facilitate quick communication with members about progress in bargaining.
We will continue building our Working Teams, who will focus on topics brought up by our survey: Inflation and salary raise, proportionate salary yearly increase, health benefits, bullying, inequities in the fellows (taxes, tuition waivers, health benefits), and patents and intellectual properties. If any of these topics are important to you, please sign up here or reach out to join or propose additional groups! These are low commitment, fun, and a great way to meet other postdocs with similar interests, as well as crucial to our bargaining process.
You drive the process! Reach out and help us build the Contract Action Teams!
Stay tuned for new updates.
Cheers!
Your Friendly Neighborhood Bargaining Committee.
P.S. – To stay informed about our union, make sure to check our website columbiapostdocunion.org, and follow us on Twitter, and Facebook.