After receiving CU admin's unreasonable and unrealistic offer last Thursday (a compensation offer that is a real-terms pay cut), one thing became clear to all of our members in attendance: our strike authorization vote was unfortunately not enough to get the offer we deserve, and we need to keep escalating. At our membership meeting this week, we discussed minimum required thresholds for an acceptable contract, and escalating actions building up to potentially organizing for a strike to attain the contract we deserve. Keep an eye for further emails, meetings and spaces to discuss next steps!
This Thursday, 9/7, at 5pm, we have an opportunity to push Columbia to resolve our contract before a strike begins by offering institutional support against the inflation which has swallowed up our wages.
Join your fellow postdocs and ARSs and our union colleagues from across the university as we flier attendees to a lecture on inflation – hosted by President 'Minouche' Shafik – demanding that Shafik and Columbia stop ignoring the need of their own workers in light of our current economic injustices.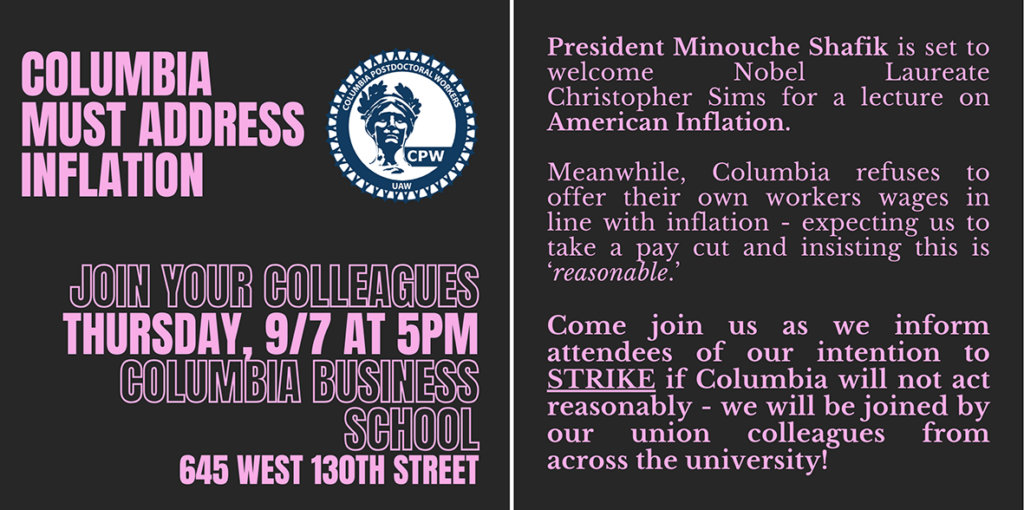 We will be joined by Columbia colleagues from other unions: SWC, 2110, SEIU 1199, and others – but our negotiations will not be successful without YOU!
We look forward to seeing you (and your colleagues!) this Thursday at 5 pm! Forward this email on to lab mates or any peers who might also want to attend in solidarity
Sincerely,
Your Friendly Neighborhood Bargaining & Organizing Committees.
---
Want to stay informed? Check out our website and follow us on Twitter, Instagram, TikTok, Facebook,
and join our and Slack​.