As you may have heard, our Bargaining Committee tentatively agreed to Columbia's offer, to bring it for a vote to the membership.
Now, it's your turn as a member to decide whether to accept this offer (see the full offer HERE, as well as further details below)! You can vote whether to accept this offer, agreeing to put into effect the terms of this agreement, or reject it, and we go back to bargaining. If this offer is rejected, we would need to strike, and we would need to have a powerful majority strike in order to push for a better deal. A strike resets bargaining such that all previously tentative agreements are open for changing. The choice is in your hands!
This TA contains some notable victories in many of the priorities established by a majority of postdocs and ARSs. However it does not include some other important demands. See below for more details.
We also want to emphasize, as was even acknowledged by the Columbia side during bargaining, that our organizing and actions – including the strike authorization vote, rally during the President's inauguration, a tangible strike deadline, and consistent solidarity and pressure within our union and with our allies – were instrumental in getting us here! We should all be immensely proud and grateful of every action, large and small, by our members, and of everything we have achieved together!
In order to further discuss this offer, we will have a membership meeting TODAY at 6:30pm both in person (at CUMC, Morningside and ZI) and on zoom.
Please read the full contract offer here and see a summary below.
A 3 year contract, lasting until June 30th, 2026
$70,000 minimum for postdoctoral research scientist/scholars and postdoctoral fellows
$77,000 minimum for associate research scientists/scholars
These minimums for new hires will increase 1.5% per year
3% yearly raises.
For researchers already at Columbia (not new hires) a one-time ratification salary adjustment: $1000 increase over the minimum per each year of experience up to 5 years for postdocs and 3 years for ARSs. (see the table in the contract below).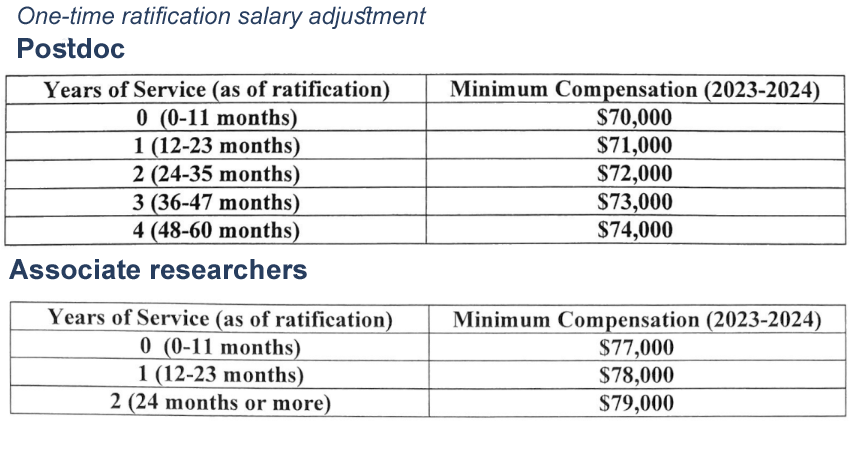 For anyone already making over these new minimums they will get a 3% increase. 
$1,200 ratification bonus.
Limits on classification of fellows as independent contractors. We will now be able to challenge (grieve) postdoctoral fellow status as long as the funding agency does not require contractor status. If the agency requires contractor status, the loss of benefits caused by this will be compensated for with $3,500 per year if they have been working at Columbia for at least 2 years
Hardship fund of $500,000 for the 3 years of the agreement to cover medical emergencies of postdocs/ARSs
Neutral third party arbitration for cases of bullying once the new power-based harassment policy is established.
$1,250 to cover Visa renewals, increasing support for International researchers.
$1,500 relocation payment for new employees (taxable).
$5000 in a childcare FSA account (tax free) per family for kids up to 6 years (before this negotiation it was not part of the contract)
Demands which the employer has not agreed to in this offer:
Childcare payments for each child and up to the age of 13
Housing stipend of $5,000
Cost Of Living Adjustments (COLA) to keep up with inflation.
Recognition of experience at other universities
There is no explicit commitment for institutional support from the university (it is up to them to decide how to finance this offer).
Raises to minimums are not retroactive from July 1.
Also this offer would mean withdrawing all ULP's filed against Columbia's behavior during bargaining (click here for more on the ULPs that will be withdrawn and not)
In solidarity,
Your Friendly Neighborhood Bargaining & Organizing Committees.
---
Want to stay informed? Check out our website and follow us on Twitter, Instagram, TikTok, Facebook, and join our and Slack​.