November 1st is just around the corner. Are you strike-ready? Are your co-workers?
Now is the time to sign up for Picket Line Strike Duties! Using the form below, you can sign up for four-hour picket line duties at the different planned strike locations.
Here's How It Works:
Time: Every day, there will be two four-hour shifts: one in the morning beginning at 9:30am, one in the afternoon starting at 1:30pm. You are free and encouraged to stick on the picket line for longer, but if you only do four hours per day, over one week you will have fulfilled 20 hours of Strike Duties – this is necessary to qualify for UAW Strike Assistance. If those four hours cannot match up with a planned shift, reach out to your steward or by email.
Place: We will have rotating picket lines at each campus so that no one group has to travel to an unfamiliar campus every time. Look at the form closely and mark according to which campuses you can make it, and at which time. The campuses are CUMC (Medical Campus), MS (Morningside), ZI (Manhattanville), and Lamont (Lamont-Doherty Campus).
We will begin planning for picket line duties for the second week once the first week has started. Note that you will also need to sign in and out to verify you made it!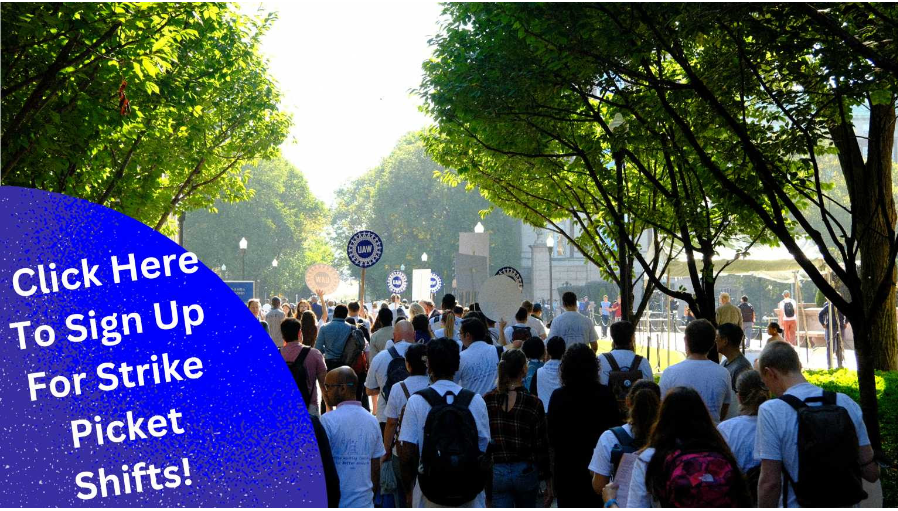 What About the LAST BEST OFFER on Tuesday?
We are expected to receive a Last Best Offer from Columbia by the end of Tuesday's session – beginning then, we will need not only to sign up for picket shifts, but to start a Vote on whether to accept the contract or go on strike.
We should still sign up for picket line shifts, because if the offer is not good enough (which is likely) we need to be ready. To get everyone set up, we'll need a committed group phonebanking on Wednesday, Thursday, and Friday night – can you join? RSVP Here to Help Phonebank the Vote and Strike Duty Sign-up
What About that Email Columbia Sent Yesterday?
Keep your eyes peeled for an email to go out this weekend responding more in depth to Columbia's scare tactics. In the meantime, members have been updating the FAQ to reflect current concerns. Just keep in mind that if Dan Driscoll's email left you feeling scared, discouraged, or confused – that was administration's intention with that email. We stand stronger when we stand together, and together, we will respond.
In solidarity,
Your Friendly Neighborhood Bargaining & Organizing Committees.
---
Want to stay informed? Check out our website and follow us on Twitter, Instagram, TikTok, Facebook, and join our and Slack​.