Thanks to our collective efforts we have a new 3 year union contract! What happens now? In this email we will overview what is happening, what happens next, contract implementation, campaigning for ongoing topics, and our current membership drive!
🗓️💫First, a quick update on things happening this month:
Our December membership meeting will be Dec 14th @ 6:30 pm! A key agenda item will be discussing the potential amalgamation with the Mt. Sinai postdocs!
Save the date for our winter socials – December 12th on Morningside campus & December 18th at CUIMC!
Union local elections ongoing! Check here for more details
🏆🎉Key Victories Of Our Union Contract
There are numerous victories in our contract, please read through to make sure you have access to all the benefits. Here some highlights and information about implementation: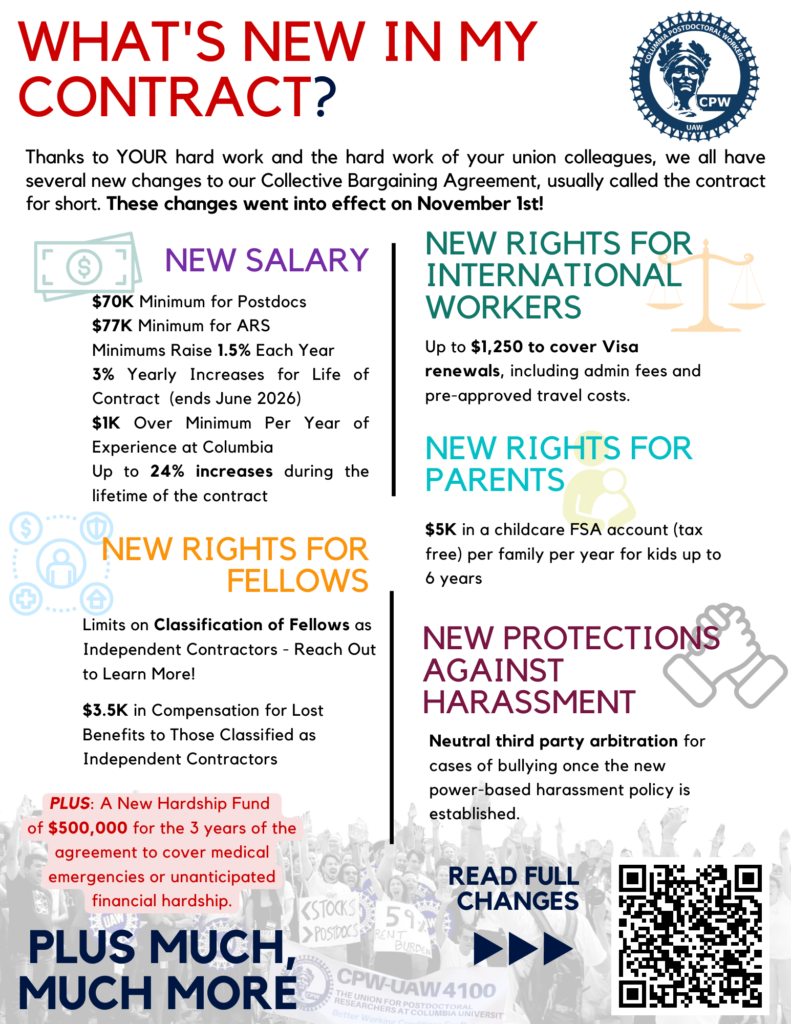 ⏳Status:
Signing bonus of $1200 – all current employees should already have received this in your latest paycheck! If you are missing this payment write to postdocunion@uaw4100.org
Salary raises: effective as of November 1st – but have not yet been processed by HR. You should see these updated in your paychecks of December 15 or December31/January 1, with backpay to Nov 1st.
Improved rights for fellows: If you are interested in this topic sign up to the Fellows working group.
International employees: this benefit is in effect! If you are traveling for visa reasons, reach your department HR and email us at postdocunion@uaw4100.org if you want some help.
Hardship fund: will be available as of January 1st, 2024. Some members interested in discussing which regulations we want in place will meet on Monday at noon RSVP or send us feedback here.
✊The Fight Continues For Future Improvements
Our union, as all unions, is an organization focused on ongoing support and campaigns to further rights, at the bargaining table and as well as outside it. The fight for better working conditions continues through assertive contract enforcement and continued organizing on topics, like childcare, back payments or the housing stipend. Sign up in our working groups if you are interested in organizing around these topics (or propose any other).
Columbia did not want to commit central money for our contract implementation, but the faculty at Columbia is circulating this letter requesting them to do so. We want to continue supporting this fight for more institutional support from Columbia to its core missions! Email us at postodocunion@uaw4100.org if you want to help.
---
💥Join the majority and support your union by becoming a member!💥
Throughout our contract campaign a majority of postdocs and ARSs have chosen to become union members which gave us the power to win all these improvements. Growing our membership even more will help a robust contract implementation, campaigning on additional topics, and building strength for future contracts
Sign up here to become a member and join the majority of us building a better Columbia for all postdocs and ARSs
(to decline membership you are required to indicate in the same link and contribute a comparable fair share fee for all of us to share the cost of negotiations and representation)
These are some of the perks of union membership:
📣1.- enables us to have a powerful voice as Postdocs and ARSs at Columbia and beyond. Our collective power demonstrated that when we advocate for our rights, we have the ability to protect ourselves and enforce our values.
🪧2.- makes our Union more democratic and inclusive, since membership gives you the right to take part in the Union's governance through elections, working groups, committees and other processes, including and how to spend our financial resources. For your voice to be heard, it is in your best interest that you become a Union member.
🌍3.- you will be joining a broader movement of postdocs and academic researchers who are unionizing across NYC and the country to improve conditions of researchers in academia.
---
Lasty, again these achievements reflect that when we work together to defend our rights, we win. We thank each and every one of you who talked to co-workers, attended rallies, pickets, bargaining sessions and overall for the strong solidarity across disciplines, departments, campuses… Together, we have achieved significant improvements not only for us at Columbia but also set the bar for other postdocs in the city on the path of unionization (like Cornell, Mt. Sinai, Princeton, NYU).
As aforementioned, the fight goes on. Keep an eye out for further updates, so you can have an impact in the processes of attaining our demands!
Together, we are stronger.
In solidarity,
Bargaining & Organizing Committees
---
Want to stay informed? Check out our website and follow us on Twitter, Instagram, TikTok, Facebook, and join our and Slack​.