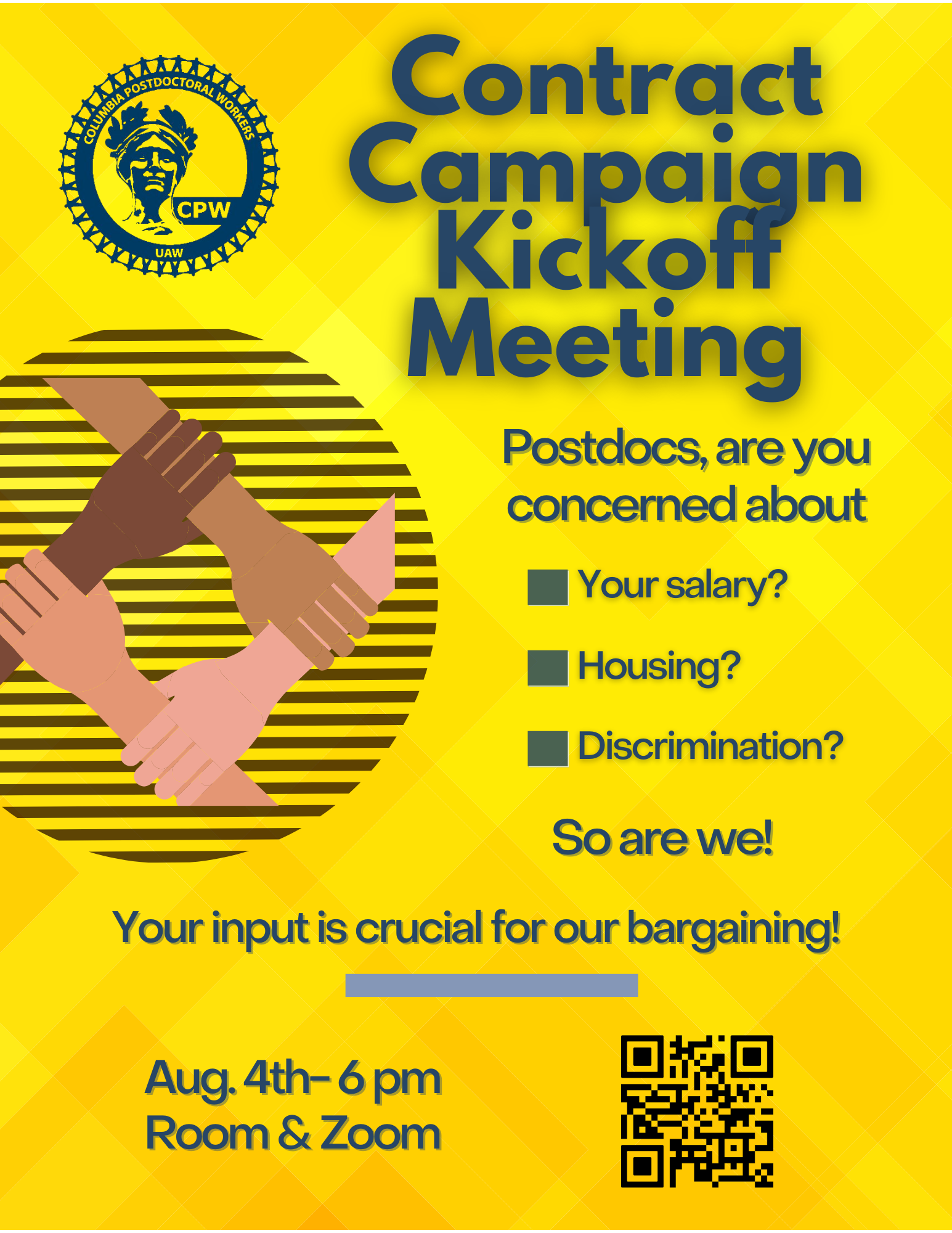 Time to Kick-off our Contract Renewal Campaign
On Thursday, August 4th, our new Bargaining Committee is gathering a group of postdocs and ARS from all over the University who want to help us win a strong contract next year. This meeting will kick off our contract campaign, and be a chance for all of us to 1) come up with ideas for what we want to obtain in our next contract and 2) build a strategy to engage  postdocs to win on our major issues.
RSVP to attend the August 4th Contract Campaign Kickoff Meeting
Can't make it in person? RSVP here for the Zoom link
After ratifying our historic first contract in 2020 – a win not only for researcher workers at Columbia, but for our colleagues throughout the city – the time has come to negotiate the terms of our second contract! With our current contract set to expire next summer, we want to be at the negotiation table as early as the end of this year – meaning the time to establish our priorities and goals is now.
We want to hear what's most important to YOU as we plan our strategy to win stronger protections and benefits, as well as ensure we hold on to those we won during our first contract campaign, such as:
Increase in minimum compensation from $51,367 for Postdoc Scientist/Scholars, $50,004 for Fellows to $60,000 for both, making Columbia Postdoc salaries the highest in NYC at the time of ratification – and a lump sum bonus for those already over the minimums.
Right to six weeks of fully paid parental leave for both birth and non-birth parents available after one year of service.
Unprecedented university commitment to work with CPW-UAW to develop policies and procedures addressing bullying.
But perhaps most importantly, we now have a formal mechanism to enforce our rights through a legally-binding contract and the strength of our solidarity with each other.
The question we must ask is how we are going to use our solidarity to protect what we've won, win what we need, and ensure a fair and equitable workplace for all.
Contract Kickoff Meeting
Location: Room 16-405 (Todd Amphitheater)
Physicians and Surgeons (P&S) Building
Enter through the William Black Building on W 168th Street
Take the elevators to Floor 16
Cross over to P&S building
Time: 6:00pm EST
Date: Thursday, August 4th
All are welcome and encouraged to attend!