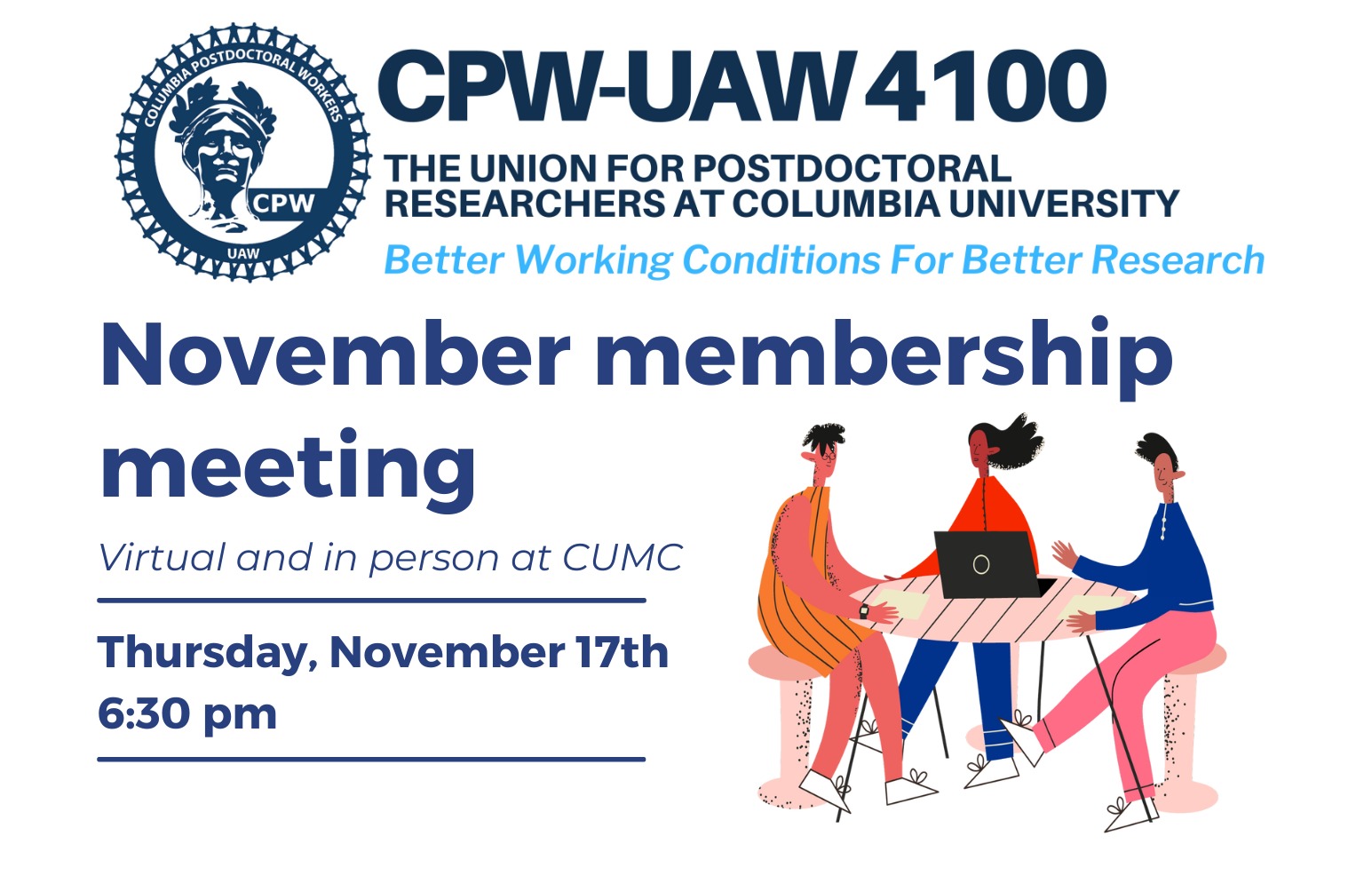 November membership meeting
O
hursday November 24th is Thanksgiving, a holiday recognized by our contract (as well as the day after) therefore, we will hold our membership meeting next week, on Thursday November 17th at 6:30pm, in hybrid mode: both in person at CUIMC and on zoom. Use one of the links below to RSVP. We will send a proposed agenda soon! But let us know if there is any topic you'd like to discuss.
RSVP TO ATTEND THE MEMBERSHIP MEETING IN PERSON
RSVP TO ATTEND THE MEMBERSHIP MEETING ON ZOOM
Topic to discuss:
Columbia has arbitrarily decided to remove from our union our fellow postdocs in the Journalism and Law schools. This is not only a direct attack to them, but also to all of us by decreasing our numbers, and most importantly, our collective voice at the university. We will be discussing the most recent events and how to move forward since we will be bargaining our second contract soon.
In addition, we will have a brief update from the Bargaining and Organizing Committees and the finances report. The latter is particularly important if you are curious on where your dues are going and how the union is utilizing this money.
Let us know any suggestions about topics you'd like to discuss at postdocunion@uaw4100.org!  
As a reminder, to conduct discussions and votes in an orderly manner at our membership meetings, we follow the parliamentary procedure used in most Local Unions and community organization meetings outlined in Robert's Rules of Order. You can find a cheat sheet with the most commonly used rules here. If you have any questions about how to use these rules during the meeting, always feel free to ask. As a new local union, we are all learning together and there are no wrong questions.